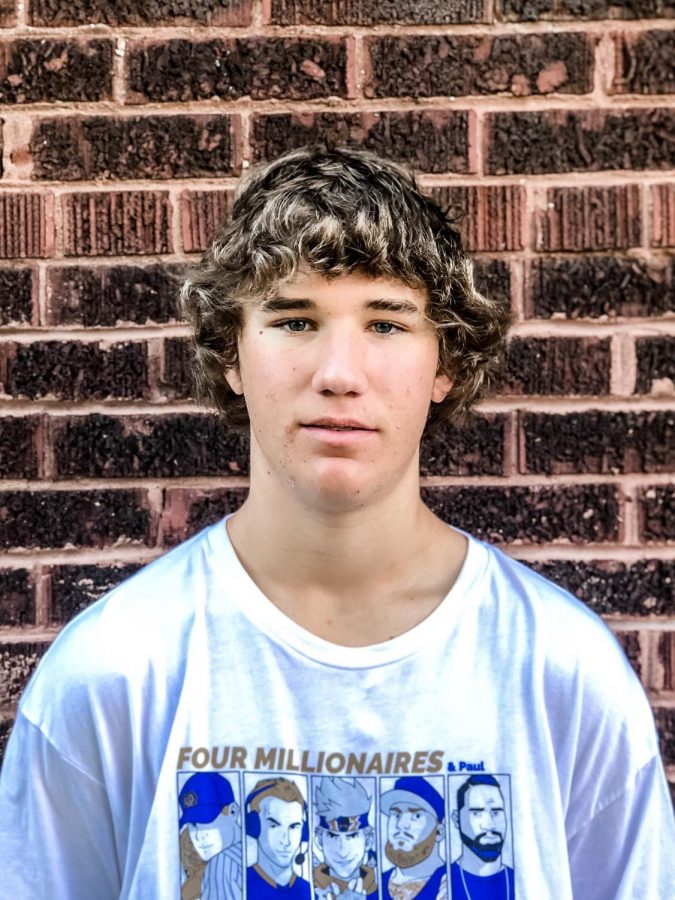 Hello! My name is Jhett Garrett and I am a sophomore at Cannelton High School. This is my 5th year as a
HiLife
Staff Writer, and my third year as
HiLife
Editor. I play baseball and basketball, and I am a member of Student Council and Pep Club. My favorite television show is
Stranger Things
. My favorite sports team is the New York Jets, and my favorite athlete is Ronald Acuna Jr.
Divergent
would have to be my favorite book, but my favorite movie is
Moneyball
. If I could go to any college in the world, it would have to be the University of Notre Dame. My favorite artist is The Weeknd, my favorite color is Navy, and my favorite video games are MLB the Show.
Jhett Garrett, Editor
Aug 06, 2020

Tropical Thursdays with Mr. Parr (v3.1)

(Story/Media)

May 23, 2020

The End of the School Year: Through My Eyes

(Media)

Mar 11, 2020

The History of March Madness

(Story)

Mar 05, 2020

Tropical Thursdays with Mr. Parr (v.2.3)

(Story/Media)

Feb 27, 2020

Tropical Thursdays with Mr. Parr (v.2.2)

(Story)

Feb 20, 2020

Tropical Thursdays with Mr. Parr (v.2.1)

(Story/Media)

Jan 30, 2020

MLB Hall of Fame Class of 2020 Released

(Story)

Jan 15, 2020

Varsity, JV Boys Defeated by Commodores

(Story)

Jan 13, 2020

BREAKING NEWS: Astros Hit with Massive Punishment Following Sign Stealing Incident

(Story)

Dec 19, 2019

Tropical Thursdays (v.11)

(Story/Media)

Dec 18, 2019

Aces Defeat Lady Bulldogs

(Story)

Dec 11, 2019

BREAKING NEWS: Fire Breaks Out at Tell City Riverport Building

(Story)

Dec 11, 2019

Hornets Sting Lady Bulldogs

(Story)

Dec 10, 2019

NEW XFL Uniforms Ranked

(Story)

Dec 05, 2019

Tropical Thursdays with Mr. Parr (v.10)

(Story/Media)

Dec 04, 2019

Bulldogs Fall to Commodores in Home Season Opener

(Story)

Nov 28, 2019

Tropical Thursdays with Mr. Parr (v.09)

(Story/Media)

Nov 28, 2019

Eagles Take Down Varsity Bulldogs in Season Opener

(Story)

Nov 21, 2019

Tropical Thursdays with Mr. Parr (v.08)

(Story/Media)

Nov 19, 2019

Borden Conquers Lady Bulldogs

(Story)

Nov 15, 2019

Joe Burrow is the Heisman. Here's why.

(Story)

Nov 15, 2019

Myles Garrett, Others Suspended After Last Night's Game

(Story)

Nov 14, 2019

Tropical Thursdays with Mr. Parr (v.07)

(Story/Media)

Nov 12, 2019

Lady Bulldogs Earn 2nd in SRC Tournament

(Story)

Nov 08, 2019

Bulldogs History: The TRAC

(Story/Media)

Nov 07, 2019

Tropical Thursdays with Mr. Parr (v.06)

(Story/Media)

Oct 31, 2019

Tropical Thursdays with Mr. Parr (v.05)

(Story/Media)

Oct 24, 2019

Tropical Thursdays with Mr. Parr (v.04)

(Story/Media)

Oct 11, 2019

College Football: Week 6 Review

(Story)

Oct 10, 2019

Tropical Thursdays with Mr. Parr (v.03)

(Story/Media)

Oct 02, 2019

College Football: Week 5 Review

(Story)

Sep 30, 2019

It's the Thirst-Thirstiest Time of the Year

(Story)

Sep 30, 2019

Video Game Review: Fortnite

(Story/Media)

Sep 26, 2019

Tropical Thursdays with Mr. Parr (v.01)

(Story/Media)

Sep 25, 2019

College Football: Week 4 Review

(Story)

Sep 23, 2019

College Football: Week 2 Review

(Story)

Sep 18, 2019

NFL Season Preview

(Story)

Sep 05, 2019

College Football: Week 1 Review

(Story)

Sep 05, 2019

Johnson & Johnson Sued

(Story)

Aug 27, 2019

Andrew Luck Retires from the NFL… for his Dad?

(Story)

Aug 27, 2019

College Football: AP Poll 2020

(Story)