NFL: AFC West Season Predictions
One of the most interesting divisions in all of football looks to bring home another Super Bowl Championship with their league-wide favorite, Kansas City Chiefs. However, beyond Patrick Mahomes and the Chiefs' phenomenal offense, isn't there more to talk about from the AFC West? The answer to that question is yes. There are so many question marks and variables thrown into the three other teams not in Kansas City.
One of those questions was answered in Denver as the Broncos announced that Teddy Bridgewater would be getting the starting quarterback job over Drew Lock, which completely shocked me. While I'm not taking anything away from Bridgewater, who is entering his 8th NFL season as a quarterback, with his fifth team, it really felt like Drew Lock was going to get the job. At least for the first four games of the season and just see where he is at as a player, as he has two years left on his contract. And this year, with a solid offense and a solid defense, it was a great opportunity for Vic Fangio to see what he really has in Lock. That offense, featuring Jerry Jeudy, who is entering his second NFL season after an underwhelming rookie year, and Cortland Sutton who spent a lot of his time on IR last year, has a lot to compete within this division. When they drafted Jeudy last season, it really excited me to see the organization go this route with the team, knowing that they are going to have to fight fire with fire when they play the Chiefs twice a year. And while he had an okay year last year, 835 yards and 3 touchdowns, there was a lot of potential for a guy like that. Then you look at Noah Fant at Tight End, and Melvin Gordon coming out of the backfield, and JaVonte Williams running the ball a little bit too, this offense could be surprising a lot of people this year. Of course, I said the same thing last year though. But with a healthy defense in the Mile High City, the Broncos' hopes almost have to be going up. Von Miller will be back as well as Bradley Chubb, plus the addition of Patrick Surtain II in the draft. At number 9 overall, the Broncos went corner when a lot of people thought they would go QB. Surtain already has a pick-six to his name in the preseason, and he is being put into an already outstanding defense. Don't sleep on Denver this season.
Out in Las Vegas, the lights are shining, the money is flowing, and the seats are filling up in the beautiful new Allegiant Stadium. And with the beautiful new stadium, a lot of people think that the Raiders need a beautiful new quarterback to answer their hopes and dreams of a Super Bowl. However, those are the type of people that have clearly not paid any attention to the success that Derek Carr has had since coming into the league. While Carr isn't a perennial MVP candidate, nor will he throw for 50 touchdowns this season, he can get the job done. Last season, Carr threw for 4,103 yards, on 27 TD's, and only 9 INTs. Yet it was only good enough to get the Raiders to a .500 record of 8-8, and missing the playoffs for the 4th consecutive year. And while the Raiders continue to get the 8th year man a little bit of help on the offensive side of the ball, nothing helps to have to play Justin Herbert and Patrick Mahomes a combined four times a year. Even when they play outside of their division, their schedule does not get any easier, as they meet the Ravens, Dolphins, Bears, Cowboys, Browns, and even the Colts towards the end of the year. And with one of the worst offensive lines in football, it is safe to say that the Raiders are going to see a lot of struggles against those defenses. So with expectations of maybe winning six games this season, do you look down this schedule and potentially tank in hopes of getting a top 3 pick, or do you ride it out with Derek Carr one more year to see just what you have? In my eyes, with Derek Carr having two years left on a massive contract, it is so hard to tank. Even with him being a solid quarterback, you have to look at him and ask yourself, is he going to be able to bring a Super Bowl to Las Vegas? And despite being a big Derek Carr fan, the answer to that question is no. Looking at this team top to bottom, it is time to reset. Expect to see Darren Waller, Henry Ruggs, and guys like that not on the team in the next five years, because these guys need a full reset if they want to compete with this division. 
The Los Angeles Chargers have more eyes on them than nearly any team in all of the NFL, with sophomore QB Justin Herbert under center, and a healthy defense on the other side, this is a team that has a lot of people pulling for them. The Offensive Rookie of the Year has a lot of doubters, however, as many critics believe he will have the biggest "Sophomore Slump" of all of the second-year players. Last season, Herbert threw for 31 TDs, 10 INTs, and a total of 4,336 passing yards. For a rookie who started 13 of 16 games, those numbers are very good. It's the reason he was the OROY. The question is will he be able to exceed those outstanding numbers in year 2, and silence the doubters? More than likely, no. While Herbert is going to have a great year and will lead this team to 10+ wins, it is so hard to come back in a sophomore season and replicate the season you had before. Especially for a big market team that plays in Los Angeles. You also have to take into account the loss of TE Hunter Henry to the New England Patriots during Free Agency. Not to say that Mike Williams and Keenan Allen can't get it done, it's just a big target that is no longer on the squad for Herbert. However, you will have Austin Ekler coming out of the backfield once again for you, which is huge for not only Herbert but the entire team as well. And with a heavily improved offensive line, this team should not struggle on offense at all. Yet you will still see Herbert put up "worse" numbers than last year, and get called a one-season wonder, while still leading his team to be one of the best offensive teams in the league. Brandon Staley, the new head coach for the Chargers, was the defensive coordinator for the Los Angeles Rams last season, undoubtedly the best defense in football last year. With a hopefully healthy Derwin James and Joey Bosa on the defensive side of the ball, expect this Charger defense to surprise a lot of people. 
Finally, you have the Kansas City Chiefs, who are coming off their second consecutive Super Bowl appearance. Is there anything else that needs to be said about this team that hasn't already been said? They are going to win the division, they will most likely be the best team in football, and they will most likely win the AFC for the third consecutive season. The only way this team doesn't win the division is if Justin Herbert throws for 50 TDs, and 6,000 yards, which will not happen. Patrick Mahomes is without a doubt the best player in all of football, throwing to some of the best receivers in the game, and with Clyde Edwards-Helaire coming out of the backfield, this team could realistically win 15-16 games. There truly isn't much more you can say about this team that they won't show us during the first 17 game season in NFL history. 
Predicted Standings
Kansas City Chiefs* – 14-3
Los Angeles Chargers* – 11-6
Denver Broncos – 8-9
Las Vegas Raiders – 5-12
* = Playoffs
Leave a Comment
About the Writer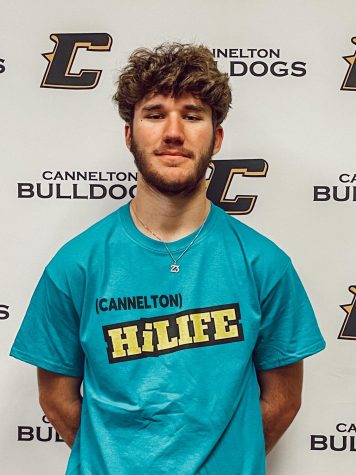 Jhett Garrett, Editor