Borden Conquers Lady Bulldogs
This past Saturday (November 16) the Cannelton Lady Bulldogs traveled to Borden to take on the Braves. After coming off of an impressive win over Rock Creek Academy, the Bulldogs were looking to keep it rolling and start a win streak. However, the Braves were too much to handle, and the Bulldogs lost 64-15.
"I wouldn't say shooting is much of a factor, we were just chasing such a big number early," said Head Coach Brian Garrett. He added, "The rim seems a lot bigger when you're ahead, and smaller when you're behind. They got off to a good start, and we had to chase 22 points at the end of the first quarter."
Kendall Hale finished the day with 10 points and 10 boards, as well as 4 blocks. Maggie Dawson had 3 points, and Sara Crafton tallied 2.
Turnovers ended up being a huge issue for the Lady Bulldogs, with a team total of 21 turnovers.
"Their guards were quicker than ours. We tried doing too much, even when they went to a half-court defense," said Coach Garrett. "Knight had 9 steals for them, and a majority of those were probably in the first four minutes." Borden's Christina Knight also had 17 points, and those 9 steals, in 19 minutes. She was perfect from the field, a solid 8/8.
The Bulldogs outshot the Braves from the free throw line, going 3 for 5. "We do make our free throws," Garrett said chuckling, "I've seen us make a lot of free throws. We don't really foul a lot, which kept them off the line."
Borden didn't shoot well from the outside, however, they really worked down low on the Bulldogs. "They got open looks, they just didn't shoot well," Garrett said, "We want to pack everyone in, and make you go down low. They could finish down low."
The Bulldogs, who usually out rebound teams, did not perform well in the rebounding category. They were out-rebounded 50-19, and 28 of those boards were on the offensive side of the ball. "They didn't miss a lot of shots. They were a lot quicker, and very fundamentally sound," commented Garrett on the lack of rebounds. "They blocked out well. I think we are just tired, playing six games in two weeks is tiring."
Cannelton moves on to West Washington, who is going to give them a hard time. Coming off of a rough game like this, it's hard to find positive things to build off of. However, Garrett said, "We just have to get better, take care of the ball, do the little things, and work hard in practice. We aren't fundamentally sound, and it hurts us."
Cannelton makes the trip up to Campbellsburg on Thursday.
Leave a Comment
About the Contributors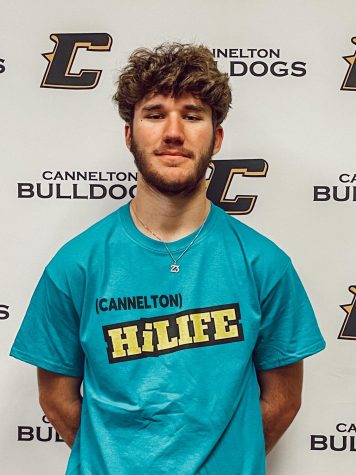 Jhett Garrett, Editor