College Football: Week 5 Review
This article is the 5th edition of our College Football review series.
Week 5 has come to a close, and a lot has changed within the rankings, especially the top 10. Do we have a new number one team? Maybe a new team in the top four? Both? I suppose we will find out in the future, and with this past week setting up a lot of things, it is going to make for a good rest of the season.
The first game I want to tackle, would be a matchup between the number 23 Texas A&M Aggies, and the unranked Arkansas Razorbacks. In the past, Arkansas hasn't been known for their football program, but with a 2-2 record, and a chance to knock off a ranked team, an opportunity was presented. They really did hang with them, and, the play between both quarterbacks was not bad at all. Running with two quarterbacks usually isn't successful, however, they really were hanging around with them. At the half, the Razorbacks were down by just four, and they were looking to come out of the break red hot. They took the lead in the third, going up 24-21, but a rough fourth quarter, in which they could only muster three points, they would lose the game 31-27. It really was a good football game, and a fun one to be apart of. This Texas A&M team already has, and will continue to play some of, if not the toughest teams in all of college football this season. If your Arkansas, you look at that, and you competed with this ranked team, that has played a lot of the top teams in the country. Of course the outcome wasn't as planned, and losing at home really isn't good. However, this Aggie team is a good football club, and I expected them to win this football game. Texas A&M quarterback, Kellen Mond, finished with 251 yards passing, and three touchdowns. Nothing from the defensive side of the ball jumped out to me, except for Aggie defensive lineman, Justin Madubuike, who finished with not only a sack, but an interception too. Texas A&M (3-2) picked up a win on Saturday, but a loss on Sunday, as they are on the brink of dropping out of the top 25, falling two spots to number 25. Arkansas (2-3) remains unranked.
I feel like I never show love to this Indiana football team. This past Saturday, they traveled to play the number 25 team in the country, Michigan State, and went in that hostile environment, and put up a huge fight. The fell back 21-14 at the half, and was going to need a big third quarter if they wanted to win this football game, because the Spartans were for sure going to come out trying to seal the game. However, it was nearly a scoreless third quarter, as the Hoosiers only put a field goal, closing the gap to just four. Now for the good part. The second play of the fourth quarter, Indiana scored a red zone touchdown, taking a three point lead, and giving the ball back to the Spartans. It took only two minutes for MSU to march down the field, and punch one into the end zone, reclaiming their four point lead. Indiana could not figure out a way to score, and it caused the gap to go from four, back to seven, as the Spartans kicked a field goal with just 3:38 left in the game, plenty of time for red shirt freshman quarterback, Michael Penix Jr. to push this game into overtime. Michigan State really did ruin this game for themselves, with penalty after penalty being thrown, they gave Indiana north of about thirty yards. This set up a touchdown, on a great ball thrown by Penix Jr. to tie the game at 31 all. The question was, with two minutes remaining, did they leave too much time on the clock? It took them only two plays, and twenty second to get the ball to about the three yard line, after a deep ball, and a long run by MSU quarterback Brian Lewerke. The run is the play I want to talk about. As he was running, he was so close to scoring a touchdown, and taking the lead back, however he was tackled, causing time to run down, and lessen the chance of an Indiana comeback. Now I know never let someone score, but here, LET HIM SCORE! Would you rather have about five seconds to kick a field goal and tie, or 1:40 to score a touchdown? I'm not sure what you're thinking, but I'm choosing 1:40 on the clock every single time. Although Indiana put up a great fight, they would lose 40-31, after a fumble into the end zone as time expired. Michigan State (4-1) falls out of the top 25 after this game, and Indiana (3-2), who I believe would have been ranked with a win, remains unranked.
After a tough loss against the Georgia Bulldogs, the Notre Dame Fighting Irish came back to South Bend, and was going to have another tough matchup with the number 18 team in the country, the Virginia Cavaliers. The Cavs took an early 7-0 lead on the first possession of the game. Notre Dame would answer back twice, and take a 14-7 lead. However, they couldn't score a single point in the second, and Virginia went into the half up three. Early on in football games this season, I have noticed the the Irish have been slow. So I honestly wasn't worried, and I made the prediction the Virginia would not score a single point in the second half of this football game. It was looking as if they weren't going to, as they went scoreless for a good portion of the second half. It wasn't until late in the fourth that they would kick a field goal. Meanwhile, Notre Dame put up 21 points in the second half, and won the football game 35-20. Let's talk a little bit about this Notre Dame football team. Now, taking nothing away from Virginia because they are a good team, and they were in this game. However, Notre Dame just excels in the second half of football games this season. Their defense in the second half is second to none, their offense gets them through, and the run game goes crazy. Tony Jones Jr, who was shutout against Georgia, performed at the top of his game. He rushed for 131 yards, and 3 touchdowns. The defense however, really shut down Virginia. They finished with eight sacks, two interceptions, three forced fumbles, and a touchdown. THIS, is a football team that can do some damage. With the best team they play moving forward being Michigan, it may be hard for them to find their way into the playoff, however anything can happen. Notre Dame (3-1) move up one spot to number 9, and Virginia drops from 18, down to 23.
In the past, we have seen Clemson struggle in ACC play. Usually it's Syracuse, but this year it is none other than the North Carolina Tar Heels. North Carolina started out hot, going up 7-0 at the end of the first, and continued to work, keeping it tied heading into the third. Which, I'm sure if you asked the Tar Heels to be tied with the number one team in the country at the half, I think they would take it in a heartbeat. The third quarter was scoreless, and heading into the fourth something was going to need to happen for UNC to pull out with the biggest upset we will see this whole season. A touchdown was scored by the Clemson Tigers, giving them a 21-14 lead. It was time for the Tar Heels to drive down the field, and score a touchdown. Which they did. They were down by one, and needed an extra point to tie it, but they were feeling a little bold. Instead of tying it, and trying to play some overtime football, they decided to go for the win, and go for the two point conversion. Unfortunately, they could not convert, and fell just short, 21-20. I completely agree with the decision to go for two. Let's be real, you're playing the number one team in the country, I'm saying go big or go home. Even though they fell short, it opens up a big question, should Clemson drop to number 2? They did in fact drop to 2, and Alabama reclaims the number 1 spot. I couldn't agree more with this decision, and to be honest the way that the rankings have gone this year, I am very happy. Teams have dropped due to performance, if a team has an upset, we have seen them make an appearance in the top 25. We will get back to that in a moment. Clemson (5-0) again the number two team in the country, and North Carolina (2-3) remains unranked.
Back to the rankings this season, there are so many things going great this year. In the past, it felt like a poor performance didn't affect anything at all. Which to be honest, isn't really fair. A team like Alabama that hasn't had any struggles at all this season should be the number 1 team in the country. However, the SEC is honestly not very good, but that's just my opinion. A lot of overrated schools are in the SEC, but that's a different conversation for a different time. The rankings didn't really change a whole lot this week. Our biggest jump of the week goes to UCF who bounced back after losing their first game since 2016, as they are up four spots to 18. The biggest drop of the week goes to Virginia, who fell five spots to number 23, after losing by fifteen to Notre Dame. The top performer for this week is really unclear, whereas last week we saw a nine touchdown performance. After a long time of thinking, I'm going to have to give top performer to Notre Dame running back, Tony Jones Jr, who rushed for 131 yards and 3 touchdowns. The reason being, last week he was shut down, and he really bounced back big time, so that is why I feel he deserved the award. This past week, my bold prediction was way off, so this week I need a bounce back week myself. This week, number 7 Auburn is going to go on the road and play number 10 Florida, and prove that they belong, and beat the Gators by at least 5 touchdowns. That is the bold prediction for the week, and boy is it a bold one. I hope to see you all again next week, and I cannot wait!
Leave a Comment
About the Writer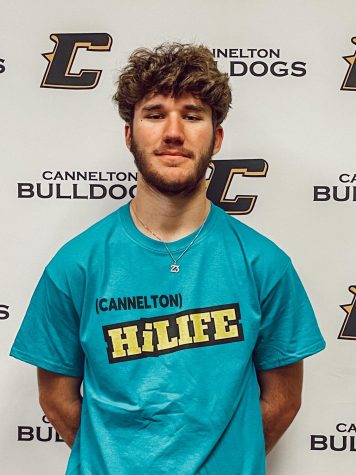 Jhett Garrett, Editor