Cannelton Got the Best Sectional Draw… But No One is Talking About It
This past Sunday, the Cannelton Bulldogs struck gold during the Sectional 64 draw by drawing a win-and-in game against the Wood Memorial Trojans. However, despite getting the best draw possible, you probably didn't hear about it from the Perry County Newspaper, which historically likes to disclude the Bulldogs, and the Cannelton community.
Since April 7, Cannelton has been featured in the sports section of the Perry County Newspaper one time. That was an article on junior player Austin Wiseman regarding his first full high school season. The Perry County News has been at a total of two Cannelton baseball games this season. Those games were two of the first three games, including the team's opening game. There has been no news presence at any Cannelton baseball game since then.
Through all of this, some amazing baseball games haven't been covered. This includes a game-winning home run in a conference game. The game also featured a broken school record, a no-hitter by a player leading the state in strikeouts, and a player being top five in the state in stolen bases. All of which wasn't spoken about at all by the newspaper, which almost feels blatant. Historically, Cannelton has always been treated as an afterthought.
Just recently, Perry County Sports Editor Hunter Tickle released an article regarding the sectional draw, which included quotes and statements from Tell City and Perry Central coaches. If you happen to make it all the way to the bottom of the article, you will see a small, one-sentence side note about the best draw in the county, which states who the Bulldogs will play.
Cannelton's baseball coach Mike Garrett voiced his displeasure with the article, tweeting, "Thanks for the 1 sentence side note on the opening round game for Cannelton Hunter."
In response to Coach Garrett's comment, Tickle tweeted: "Coach I was in a crunch for the online deadline. I'm covering your game tomorrow that's when I was going to quote you for Thursday when we print the article."
Seeing newspaper space taken up by articles discussing sports teams from neighboring schools from the '60s makes that feel less sincere and doesn't soften the blow.
In response to the news snub, Cannelton senior athlete Dylan Young stated, "It makes me wanna work harder and prove that our team is just as good as the other teams in the county." He added, "It makes it even harder knowing it's my last year, and we still are not getting the attention we deserve. It's been this way on and off for a while, and something needs to change."
Dylan has taken a giant leap from his sophomore season, moving from exclusively playing outfield to now being an outstanding shortstop when the team needs it most.
This isn't anything new in the slightest, as this has been an ongoing occurrence for as long as many Cannelton alumni can remember. Yet it goes deeper than sports and even into day-to-day life that isn't covered by the newspaper.
Dylan isn't the only senior on the team that voiced his displeasure with the lack of coverage. Clayton White, a senior playing baseball for the first time since his freshman year, praised the draw saying, "We got a good draw, and no one wants to talk about it only because it's Cannelton and they don't expect much from us." Clayton has played predominantly first and third base this season and has been a critical piece to the team thus far. "At this point in my high school career, I think it's finally time to shock the county."
Leave a Comment
About the Writer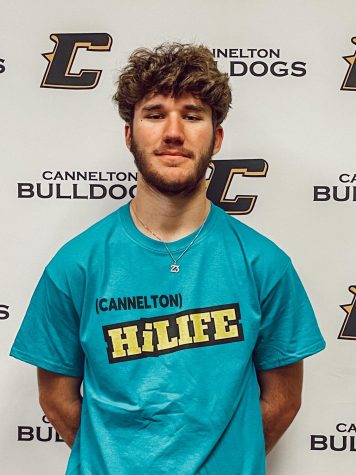 Jhett Garrett, Editor