NFL Week 1 Recap
A very action-packed kickoff weekend to start off one of the weirdest football seasons that will ever be played. No fans are allowed in attendance, the NFL is getting very strict on the mask mandate. We had two of the all time greats face off against each other, the number 1 overall pick make his debut, multiple monstrous comebacks, and the Jets being the Jets. Week 1 did not disappoint.
Houston Texans 20 – 34 Kansas City Chiefs
On Thursday the Kansas City Chiefs kicked off the 2020-21 season against the in division Houston Texans. Two quarterbacks from the same draft class facing off against each other under the lights. And it was all Chiefs for the most part of the game. The defending champs didn't waste any time taking a 24-7 lead heading into the fourth quarter, and despite a valiant effort from the Texans in quarter number 4, the Chiefs still won by two touchdowns, 34-20. Patrick Mahomes threw for 3 touchdowns, and 211 yards, however it was the rookie running back, Clyde Edwards-Helaire that everyone had their eyes on. He rushed for 135 yards in his debut, and a touchdown was tallied next to his name. Along with a touchdown for each of the Chiefs' top receivers, Tyreek Hill, Travis Kelce, and Sammy Watkins, the Chiefs picked up right where they left off. The Texans however had a lot of proving to do. After trading arguably the best receiver in football, DeAndre Hopkins, to the Arizona Cardinals, it was going to be interesting to see how Deshaun Watson would fare under center. It wasn't all that great, throwing 253 yards, 1 touchdown, an interception, and a rushing touchdown. David Johnson, who was involved in the Hopkins trade, made his debut for the Texans, rushing for 77 yards and a touchdown.
New York Jets 17 – 27 Buffalo Bills
The New York Jets traveled to Buffalo, and all in all, it was an absolute waste of gas, time, and energy. It was an absolutely terrible showing from the team, and led by the worst coach in the NFL right now, Adam Gase, there is a lot of blaming to do. Third year quarterback Sam Darnold has all eyes on him right now after the team traded their best player to the Seahawks, and let's just say that he did not show what everyone was wanting to see. He threw for 215 yards, a touchdown, and a boneheaded interception thrown into double coverage to the Jets shortest receiver. He took a sack that didn't need to be taken rather than throwing the football away, and that's on the coaching staff for allowing that to happen. The offensive line was brutal, and the only reason nobody talks about that is because it's an amazing line compared to last year. Darnold was facing heavy pressure on every single play of the game, and the run game never took off. Le'Veon Bell was injured in the first half, and didn't play much at all in the second half. Jamison Crowder dropped three passes that hit him right in the hands, and Chris Herndon fumbled a ball in Jets territory that ultimately sealed the game. And despite all of this, the Buffalo Bills only won by 10 points. And if Bell doesn't get hurt on the play he did, the game is only a 3 point game rather than 10. Josh Allen showed up really good on the statsheet, however I am truly not sold on the guy. He fumbled the ball twice, and if you're playing a competent team that understands the game, they make you pay for that type of stuff. He wasn't completing passes that should have been completed, and he ran the ball 14 times. Stefon Diggs had 86 receiving yards, and despite Allen having a "great" game, Diggs was one of the best takeaways from the game for the Bills. The best takeaway for the Jets is that Marcus Maye and Bradley McDougald can hold their own at the safety position despite losing Jamal Adams. In fact Maye had an amazing game forcing a fumble, with 2 sacks, 10 tackles, and a pass deflection. The only issue is he is about the only one that had a good performance. The Jets can't stop the pass game whatsoever, and the Bills had their way with the run game. The Jets had the potential to have about 6 more sacks than they finished with, however they couldn't finish a tackle for anything. Despite such a poor performance from Darnold, I do not agree with the whole "Tank for Trevor" mentality just yet. I think if you put him in any other offense, he would shine. However, it's the Jets and in New York, nothing shines.
Green Bay Packers 43 – 34 Minnesota Vikings
It seems like many people sleep on Aaron Rodgers every single year, and say that he will always take a step back. Yet every single year he comes out and shows out and performs so well. Yesterday was proof of why you should always count on Aaron Rodgers, throwing for 364 yards and 4 touchdowns. Heading into the fourth quarter, the Packers were up 29-10, and it was pure domination. However, a late rushing touchdown from Dalvin Cook, and Kirk Cousins deciding to wake up and realize that they are playing football, the Vikings only lost by 9. On the other side, Devante Adams had a career day, with 156 yards, and 2 touchdowns. The Packers really did a good job of spreading the offense out, and using every available piece possible. 7 different receivers had a reception, and 7 different players with a rushing attempt. The offense was firing on all cylinders. Adam Thielen showed out in his first game as the number one receiver in Minnesota, with 110 yards, and 2 touchdowns. Dalvin Cook had 50 rushing yards and 2 touchdowns, which was, and will be, the main parts of their offense for the rest of the season. It was the defense that really struggled for the Vikings, as they finished with 0 sacks, and 0 interceptions, plus giving up 43 points.
Philadelphia Eagles 17 – 27 The Washington Football Team
It was the first ever game for the Washington Football Team after removing their previous mascot this past offseason. It started out super bumpy, as they fell behind the Eagles 17-0 in the second quarter, and behind second year quarterback Dwayne Haskins, they had a tough task ahead of them. However, their offense didn't really put up big numbers, Haskins having 178 total yards, and a touchdown, and their leading rusher with only 36 yards, however they made a lot of defensive plays that put them in a good position to score 27 unanswered points, and come all the back to win the football game. Carson Wentz did not play very well, and I personally was not impressed with his performance at all. There were a lot of open receivers that he missed, and a lot of completions that should have been made but weren't. Plus add on 2 interceptions that really sold the game for them, it was not a good day to be a Eagles fan. Dallas Goedert was the team's leading receiver with 101 yards and a touchdown, however other than that the receiving core didn't have much to shout about. I would like to see more from both sides before making a true judgement on either team, as neither offense really could shine. I will say that Washington looked sort of crisp, and made some big plays especially on the defensive side of the ball. A great start for the Washington Football Team as they try to start fresh with this season.
Las Vegas Raiders 34 – 30 Carolina Panthers
This was the best football game we saw all week long. The quarterback play was absolutely amazing, and despite the low numbers on the stat sheet, it was a great game for both of them. They both made some terrific passes that set up their run game, which both teams rely heavily on, that powered both teams to compete in the game. Teddy Bridgewater made his Panther debut, and threw for 270 yards and a touchdown to Robby Anderson for 75 yards. Anderson was a big target for the Panthers, as he too also made his Panther debut, totaling 115 yards and a touchdown. However it was the run game for them that kept them in the game, and had them there until not converting on fourth down late in the game. Christian McCaffrey had 95 yards rushing and two touchdowns. Yet the Raiders still came out on top, powered by Josh Jacobs' 3 touchdowns and 93 yards on the ground, plus another 46 yards receiving. Derek Carr, who has really been on the chopping block for Raider fans for such a long time, had a really good performance. He made some really good passes across the middle of the field, and made some clutch plays on their game winning drive. My main issue was finishing drives for both teams. They would drive the ball downfield, and do a bad job of punching it into the end zone. It was a really good game for both sides though, and to be perfectly honest I cannot wait to see these teams play this weekend.
Chicago Bears 27 – 23 Detroit Lions
Mitch Trubisky had a lot of eyes on him, especially from the Chicago Bears fanbase. Trubisky is entering his fourth season as an NFL quarterback, and his past three seasons have not been good at all. However, this game was not too bad for Trubisky. In the first quarter he looked rather good and was making the kind of passes that should be seen from a fourth year quarterback that was drafted before both Patrick Mahomes, and Deshaun Watson. Yet in the middle quarters, Trubisky did not look good at all, and it provided a perfect opportunity for the Lions to take a 23-6 lead in this game. However in the fourth quarter, he again flipped the switch and looked really good. That's the real frustrating thing for a lot of Bears fans right now is when Trubisky is on, he is a fairly decent starting quarterback. However when he's off, he looks terrible and anyone else would be a better option. In the fourth quarter, he threw all 3 of his touchdown passes, and gave the Bears their 27-23 lead on a perfect ball thrown to Anthony Miller. But with time still left on the clock, the Lions had a perfect opportunity to win this football game. They got all the way down to the red zone, and on the second to last play of the game, Matthew Stafford should have gotten his second passing touchdown of the game, however a ball that fell right in the hands of rookie running back, D'Andre Swift, hit the ground, and the Lions lost the game. That's got to be frustrating, because this was the Lions game all throughout, and in your first game as an NFL player, you drop a wide open touchdown pass. The Bears may have won this game, however a lot of controversy filled the organization after number 1 receiver, Allen Robinson, had some concerns with a contract extension. As of right now, it seems like the air is cleared with Robinson, but a deal has not yet been made. Definitely something to keep an eye on.
Tampa Bay Buccaneers 23 – 34 New Orleans Saints
This was a game that a lot of people had circled on their calendars. It was Tom Brady vs. Drew Brees, in Brady's first game as a Buccaneer. Let's just say it did not live up to the hype that we were all hoping for. Brady threw for 239 yards, 2 touchdowns, and threw a couple of costly interceptions. With a very lackluster performance like this, it is starting to lead people to the conclusion that he is "system quarterback." Meaning that he was only good under Bill Belichick, the New England Patriots head coach, and won't succeed anywhere else. This just seems too far fetched to me, because yes he threw some picks, but at the same time, he threw some perfectly placed balls that I don't see anyone else making. Drew Brees didn't play too much better, throwing for only 160 yards and a couple of touchdown passes. I really wasn't impressed with either side in this game. The run game never took off for either side, and the pass game was even worse. A lot was expected from both sides, and I didn't really see anything too crazy from either side. The Saints take the early division lead, and in my eyes, they will more than likely hang onto that lead.
Other Notable News
The San Francisco 49ers fall to the Arizona Cardinals 24-20. The Niners are the defending Super Bowl runner ups. The Baltimore Ravens, led by defending MVP Lamar Jackson, destroy the Cleveland Browns 38-6. Jackson won AFC Offensive Player of the Week. The Indianapolis Colts fall to the Jacksonville Jaguars after leading for most of the game, 27-20. Russell Wilson showed up against the Atlanta Falcons, and won 38-25, and picked up NFC Offensive Player of the Week along with the W. Matt Ryan had 450 passing yards in that game for the Falcons. The New England Patriots knock off the Miami Dolphins, and show no signs of care that Tom Brady is in Tampa Bay, 21-11. Number 1 overall pick, Joe Burrow, made his debut against the Los Angeles Chargers, and performed very well, however the Bengals lost after failing to convert a field goal at the end of the game. The Chargers win 16-13. The almighty Dallas Cowboys fall to the Los Angeles Rams in week 1 after a questionable pass interference call on Michael Gallup, and a pretty good acting job from cornerback Jalen Ramsey. Nonetheless, the Rams win 20-17, in the new and beautiful SoFi Stadium. We had two Monday Night games this week, one of which was the Pittsburgh Steelers, and the New York Giants. Daniel Jones, in his second season with the Giants, did not perform well at all, leading the Steelers to cash in, and win 26-16. The AFC Championship runner up Tennessee Titans started off against the in division Denver Broncos. I was very excited for this game because I like the Titans' chances of winning this season, and I think the Broncos are super underrated. The Titans win 16-14.
Make sure to check back next week, and see how week 2 of NFL football went, and see what surprises and upsets we see.
Leave a Comment
About the Writer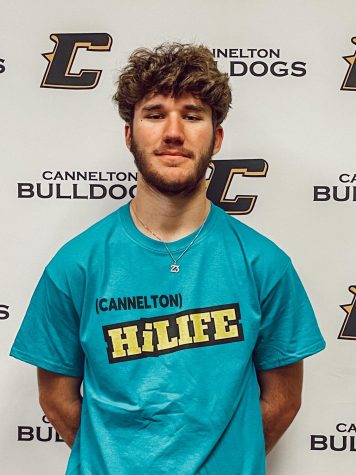 Jhett Garrett, Editor