College Basketball Mid-Season Predictions/Update
It's never too soon to start looking into March when it comes to college basketball, especially when March is only a month away. With conference tournaments tipping off in a month and a half, let's take a look at where some of the top conferences are at as we near the end of January. 
ACC
The ACC is set to have one of the most interesting conference tournaments to date this season. With no clear winner, about seven teams can win this thing and punch their bid to the NCAA tournament in March.
Last year's winner, Georgia Tech, currently holds the last place position in the conference at 8-10 on the year and 1-6 in conference play.
However, on the other end of the standings sits two schools, both from Florida. The Florida State Seminoles and the Miami Hurricanes have victories over the number 9 Duke Blue Devils. Miami is a very fun team to watch, as they embrace the small ball philosophy. They run four guards in their starting lineup, with Jordan Miller being the tallest of the four at 6'7″. However, in both matchups with the Seminoles, they could not control the glass, leading to two one-point losses.
Outside of a 22 point loss to the Wake Forest Demon Deacons, and a three-point loss to the Syracuse Orange, Florida State has been superb in the conference all season. They've knocked off Duke and Miami twice, setting them up pretty well for a conference title at the end of the year. Two games I see being huge for them are both in February, exactly two weeks apart from each other. Those two games come against Wake Forest at home and Duke on the road. They have to win that game at home against Wake if they even want a chance to win the conference and make the NCAA tournament. The most recent bracket projection has them outside of the tournament, being one of the first five out. However, with a great opportunity to move to 8-2 in conference play against Georgia Tech and Virginia Tech, they could make an appearance next week. Looking at that Wake Forest game, it's tough not to take the Demon Deacons. While they have to travel to Tallahassee and play on the road, they have been great all season long. They play two teams below .500 before that game in Syracuse and Pittsburgh, and it is an opportunity to gain even more momentum heading into that game. Behind Alondes Williams, second-year head coach Steve Forbes is having an extreme bounce-back year after going 6-16 last season. They sit at 17-4 and 7-3 in the conference. Wake is an extremely under the radar team, and it doesn't shock me if they only lose one or two more games the rest of the year and finish on top of the conference.
Notre Dame is another under the radar team this season that could make a run at the end of the year. They sit only a half-game back of first place, and their next four games are pivotal in how the rest of their season will go. They take on NC State, Virginia, Duke all at home before traveling down south to take on Miami. If they take three of those four games, they become a real player in the conference, and if they win all four, I believe they will win the conference. Assuming they win all four games, it puts them at 16-6 on the year and 9-2 in the conference. Anything less than taking three of those four games takes them out of contention in my eyes.
In my opinion, North Carolina is a team that is out of contention. They have nothing to build on with no premier wins all season long, and two of their last three games have been 20+ point losses. It's a shot in the dark for the Tar Heels, who sit at 13-6 on the season, and 5-3 in conference play. It's their first year under head coach Hubert Davis, and on paper, this team looks solid. They have four players in double figures in the points column, with Armando Bacot at the helm. Bacot, a 6'10" junior for the Tar Heels, averages nearly 16 points a game, and nearly 12 rebounds, on 60% shooting. It wouldn't surprise me if they have a run similar to Georgia Tech last season. However, they would have to turn it around quickly with the way things have been looking for them.
Another team that would have to turn it around quickly is the Virginia Cavaliers, who are coming off a massive home victory against the Louisville Cardinals. On Saturday, they travel to South Bend to take on the Notre Dame Fighting Irish in a must-win game.
The regular-season champion is so tough to tell in the ACC this season. With five teams that are right there, the next couple of weeks is something to watch out for in this conference.
I predict the regular season comes down to three teams: Duke, Notre Dame, and Wake Forest.
At this point in the season, those three teams are in the best position right now to win the regular-season conference championship.
Ultimately, I give it to Duke, with Wake Forest finishing right behind them in second. Wake has already put themselves in a bad spot with three losses on the year, and they still have to play Duke on the road. That is a massive deciding factor because if the Deacons can win that game, it changes everything.
As for the conference tournament, I believe that North Carolina will make a run, either Miami or Florida State will lose in an upset game early, and Wake Forest will come out on top, with Duke being my backup. 
Big 12
The Big 12 was almost expected to be in the midst of a "down-year" this season, with four teams welcoming in new head coaches. With Texas hiring Chris Beard, Texas Tech hiring Mark Adams, Porter Moser taking over in Oklahoma, and Iowa State bringing in T.J. Otzelberger, it wouldn't have been a shock if these teams struggled in the early going.
However, at the end of January, the Big 12 is arguably the best conference in all of college basketball, and every single team owns a winning record.
At the top of that conference are two teams, the Kansas Jayhawks and the defending champion Baylor Bears, both sitting at 17-2 on the year. Yet Kansas currently leads the Bears in conference play at a 6-1 record, while Baylor sits one game back at 5-2. The Jayhawks are coming off a huge win at home against number 13 Texas Tech in double overtime, behind Ochai Agbaji's 37 points. And while Kansas sits alone at the top of the standings, their schedule doesn't let up for the rest of the season. Their next four games consist of Kentucky, Iowa State, Baylor, and Texas, and every team they play for the rest of the season has a winning record.
One of those teams, the Iowa State Cyclones, has been the most confusing team in Big 12 play all season long. They are currently ranked at number 23 with an admirable 14-5 record. However, they've dropped five of their last seven games and sit at 2-5 in conference play, tying them for dead last. They were ranked 8th at the beginning of the month, but January has not treated them well. Their most recent loss came against the TCU Horned Frogs, who surprisingly weren't ranked in the latest AP Poll. While they have struggled to find that premier win all season long, a win over Iowa State on the road is a great place to start. They have an opportunity to pick up another premier win on Saturday against the LSU Tigers, who are ranked 19th in the country.
Who wins the conference, though, for the regular season as well as the conference tournament?
It comes down to three teams in my eyes, and they are the top three teams in the conference, Kansas, Baylor, and Texas Tech. While all teams are really right there, neck and neck, it's tough for me to throw Texas and TCU in the mix for the regular-season title. TCU still has to play Texas Tech twice, and both Baylor and Kansas once, not Iowa State on February 15th. While Texas still has to play Texas Tech twice, Kansas twice, Baylor once, and Iowa State once.
Outside of those two teams, it is tough to see any other team become a player for the number one spot in the conference at the end of the year.
I'm picking Baylor to win the regular-season conference because I see them sweeping the season series against Kansas and finishing the rest of the season unbeaten in conference play.
I want to take Kansas so badly because they look really good this season. However, Baylor always finishes so well in conference play. There is no sure pick in this conference for the conference tournament either, but I am very convinced that Baylor can and will take that as well, with Texas Tech being my backup pick. 
Big East
It is no secret that the Villanova Wildcats have dominated the Big East since Louisville announced they were joining the ACC back in 2012. However, this year is the year that someone else could take the conference.
There are about six teams that really have a shot at the conference, and five of those teams are ranked. Providence, who sits atop the conference at 16-2 on the season, and 6-1 in conference play, has the best shot at winning it. Ed Cooley has done a fantastic job leading this team. Despite missing nearly two weeks of games, this team still is ranked at number 17 in the country. Providence starts in the post with Nate Watson and sets up guards like Al Durham and A.J. Reeves. Thus far, Providence has been one of my favorite teams to watch, and while Villanova is ranked higher, the Friars have shown to be a solid team.
Villanova is ranked at 14 at this point in the season, and looking at how their season has gone, it is tough to go all-in on the Wildcats. With really no premier win outside of Xavier and Tennessee, it's hard for me to pick them to win this conference. They are coming off a win against Georgetown, but they also tallied a loss against Marquette just one week ago at home. It's those kinds of games that get looked at, not wins against the worst team in the conference, which is why I believe they aren't the top team in the Big East this season. I would put Providence above Villanova, as well as Marquette, who just knocked them off.
Marquette is ranked at 22 at the end of January, and under their new head coach Shaka Smart, the Golden Eagles are having a respectable year. They sit at 14-6 and 6-3 in conference play with wins over Villanova, Seton Hall, Providence, and even Illinois at the beginning of the year. This is a team that can and has given themselves a shot at taking this conference at the end of the year. Between Xavier, who arguably should have dropped out of the top 25 this week, and UConn, who somehow jumped five spots after beating Butler twice, there isn't any other team in this conference that I see winning.
I don't see Providence slowing up any time soon, and they will, without a doubt, win the Big East this season, with Marquette making a push at the end but falling short.
While Marquette may have already done too much damage to themselves to win the regular-season title, I see them winning the conference tournament, with Providence as my backup pick. 
Big Ten
Whenever you think of good, hard nose, grit and grind basketball, you look directly at the Big Ten conference. Big Ten basketball is some of the most fun basketball to watch.
Case in point – 10 Michigan State v. 24 Illinois this past Tuesday wasn't close until the last two minutes of the game where Michigan State made one final push but ultimately fell short by one point on a missed free throw. This was a massive game, and with a win, the Fighting Illini took back sole possession of first place in the Big Ten. However, Illinois doesn't catch much of a break as they travel to Northwestern on Saturday, then host number 11 Wisconsin, and then travel to Indiana to take on the Hoosiers and the Boilermakers. Every game in the Big Ten is rough, especially when you miss your best player, Kofi Cockburn, which Illinois was. However, the home crowd was just enough to lift them back to the top of the conference.
The hope isn't quite over just yet for the Spartans of Michigan State, as they have three winnable games in a row, hosting in-state rival Michigan and then taking on Maryland and Rutgers both on the road. It could easily give them their number 1 spot back in the conference with Illinois playing such tough competition in the next couple of weeks, but no road game is guaranteed, especially in the Big Ten.
Only four teams in the Big Ten have a record above .500 on the road this season (Illinois, Michigan State, Wisconsin, and Minnesota) which is an essential detail if you're a team needing a win and you get to host one of these top teams.
One team that needed a win was the Michigan Wolverines, who traveled to Assembly Hall to take on the Indiana Hoosiers and pulled off a massive 18 point upset. It was a win that brought them back to .500 in conference play and lifted them to 9-7 on the year. In his third year as head coach, Juwan Howard raised his team to be ranked as high as 4 in the AP Poll earlier in the year. However, the season has been nothing short of a downhill slide all season long.
For Indiana, it has been more of a roller coaster this season, as they knock off big teams such as Ohio State and Purdue and then drop games such as Penn State and Michigan. With new head coach Mike Woodson, Indiana is ranked the best defense in all of the Big Ten, but Michigan scored 80 points against the Hoosiers on the road.
It does appear that the Big Ten is once again wide open, with seven or eight teams that can realistically make a run and take the conference.
I pick Michigan State to win the regular-season conference, solely based on the next month of their schedule.
All of the ranked/borderline ranked teams on their schedule in February are at home, which sets them up for success moving forward. With such a hot run expected for the Spartans, it will not be a surprise if they win the Big Ten tournament.
However, I put them as my backup team. It's tough for me to look at any other team in the country with a player who can take over a game over Johnny Davis from Wisconsin, who is averaging 22 points a game at the end of January.
That is why I pick the Badgers to win the Big Ten tournament, with the Michigan State Spartans being my backup team. 
Pac-12
Moving to the other side of the country, the Pac-12 has been putting on a show for the rest of the world, even when their prime time games start at 10 o'clock central time.
This past Tuesday, UCLA created a three-way tie for first place in the conference after knocking off Arizona at home by 15. UCLA, the number 7 team in the country, is led by Johnny Juzang, who averages 18 points a game on 46% shooting. He scored 15 of the Bruins 75 points against the number 3 Arizona Wildcats, and now sitting atop the conference, this win gives them a slight bit of breathing room.
While there is a three-way tie, there aren't any other teams making a massive push to take control of the conference. Oregon sits a game and a half back of first. However, at 12-7 on the year, they haven't been able to muster a ton of momentum.
The third team tied for first, the USC Trojans, dropped their only two games of the season in a four-day span in January to Stanford and Oregon, dropping them from the number 5 team in the country, all the way to number 16. They currently ride a four game win streak as they take on Stanford on Thursday in a rematch and have moved up one spot to number 15.
For all three of these teams, every single game is a must-win game.
Even the teams that aren't ranked, such as Colorado, Oregon, Stanford, and Washington, have shown that they can play spoiler.
Oregon has kept themselves alive in the race, knocking off both UCLA and USC, giving them a shot late in the year if things go their way. Should they continue to win conference games and sneak one out over one of the top three teams, they could enter themselves into the mix at the end of the year. While they don't control their own fate, there is still a chance for them at the end of February, where they play all of the three top teams in seven days. There is no telling where this conference will be in a month, but you almost have to win both games at home against UCLA and USC, which they have already beaten.
I pick UCLA to win the conference because they proved against Arizona on Tuesday that Pauley Pavilion is a tough place to play. And with their strong performance against Arizona, it won't be surprising if they go on the road and beat them too.
For the conference tournament in March, I also pick UCLA to win the tournament, with USC being my backup. 
SEC
For the first time in school history, Auburn is the number 1 team in the country, and it is well deserved.
However, they were put on upset watch with the 8-10 Missouri Tigers in Missouri. The game came down to the wire, but the Auburn Tigers escaped victories in a 55-54 win. It was an extremely tough game for Auburn because it is the first game in program history where they are ranked number 1 against a bottom three team in the SEC. Missouri had nothing to prove in the game, and Auburn had everything to lose, which sometimes makes the rim smaller. Jabari Smith struggled terribly in the game, shooting 2/15 from the field, but he didn't let that discourage him as he grabbed ten rebounds. K.D. Johnson picked up Auburn, scoring 17 points in the game and scoring the game-clinching bucket at the end of the game.
If you're Auburn, you look at your team and the youth surrounding it. Jabari Smith is a freshman, K.D. Johnson, Wendell Green Jr., and Walker Kessler are all three sophomores. Should they keep this group together, they will be dangerous moving forward.
They showed their youth this past Tuesday against Missouri, not taking the right shots and playing down to their competition. With a two-game lead over the second-place Kentucky Wildcats, the Tigers are sitting very high on their pedestal.
Kentucky lost to Auburn this past Saturday and squeaked out a tough home overtime win over Mississippi State. They play a non-conference game against Kansas this Saturday in the SEC/Big-12 Challenge. They no longer control their fate with the conference, as they don't get to play Auburn the rest of the year. Now, they must hope and pray that things go wrong for the Tigers. The Wildcats have an excellent opportunity to win out the rest of the season, with their toughest games coming against Tennessee and LSU.
Alabama, who started the year red hot, has really fallen off of a cliff as they dropped yet another game to Georgia this past Tuesday. They've lost four of their last six games, with some embarrassing losses to Missouri and Georgia. They go up and down, competing with Auburn, beating LSU, but the losses at this time of the year outweigh the wins. They have realistically eliminated themselves from the regular season contention. However, it would be huge if they could build on something moving into tournament time. With these recent losses, they are on the brink of missing the NCAA tournament. It will be challenging, but they have an opportunity to secure some premier wins against Kentucky and Auburn in February.
Auburn, barring anything crazy, will win the SEC this season.
As far as the conference tournament goes, I am intrigued as to how this young team will play come tournament time. If any team gets upset during March Madness, it will be this team, despite the amount of talent on this team.
I think Kentucky will win the conference tournament because Oscar Tshiebwe is that guy. He is coming off of a 21 point, 22 rebound game against Mississippi State and is averaging 16 points and 15 boards on the season. This guy is a man amongst boys in the post, and I see him having a massive March to carry the Wildcats to a conference tournament championship and making a run during the NCAA tournament. 
It is always fun to look in and check up on what each conference is doing at this time of the year and moving into February, there are so many conferences neck and neck. So it's going to be super exciting to check up on these conferences at the end of February and see where each team is heading into the most exciting month of the year – March. 
Leave a Comment
About the Writer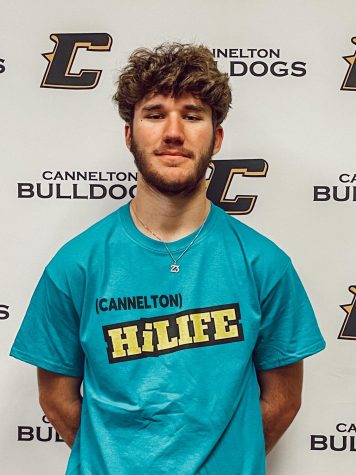 Jhett Garrett, Editor