College Football: Week 2 Review
This article is the 2nd edition of our College Football review series.
After a very slow week one, week two did not disappoint. We had many almost-upsets, and we did have a few upsets. Also, with number eight Notre Dame being on a bye week, that makes the AP Poll even more interesting. However we will get to that later, but first, we have some football games that need to be talked about.
I think I'm going to say it. If nobody else is going to say it, then I will. Maryland might just have the most dominant offense in all of college football. I'm sorry, somebody had to say it. Just this season, in two games, the Terps have outscored all opponents, 142-20! Which brings up the question: who in the world is causing this offensive outburst? I would first point at their quarterback, Josh Jackson, who on the year, already has 541 yards, and 7 touchdowns. It really hasn't ever been one single receiver, or one single rusher, but it all goes back to Josh Jackson, who has targeted everything he has on the field. This is a guy that should really draw some Heisman talk come January. Now, the defense obviously has been solid this season, but they aren't the type of team to have anything jump out on the stat sheet. They really are more of a get to the passer, and cause the quarterback to throw incomplete passes. In week 1 against Howard, passers only passed for a combined 67 yards, on and went 8/19. Syracuse, who went into the game ranked 21, didn't have a terrible offensive game. Yes, they only put up 20 points, but quarterback Tommy Devito kept the game close early, and threw for 3 touchdowns, and 330 passing yards. They just couldn't stop anything on Saturday, and it led to a huge loss, and them dropping out of the rankings this week. Maryland took the spot of Syracuse in the AP Poll this week, coming in at 21. That number is sure to rise in the future, as they travel to play Temple on the road this Saturday.
Texas A&M had their first of 3 of the most challenging games any team could ask for. They traveled to Clemson this past Saturday, and put up their best effort, but Clemson just dominates. The Tigers took the game, 24-10, and Trevor Lawrence really didn't impress as much as we are used to seeing. It was a slow first quarter, and it was scoreless at the end of it. But Clemson really went off in the second quarter, and scored 17 points to the Aggies 3. Lawrence ended the game with 268 yards passing, with only 1 touchdown, and an interception. It just wasn't an offensive showing, outside of that second quarter. Clemson scored a touchdown in the 3rd quarter of the game, which stretched the lead to 24-3, but a 4th quarter touchdown made the game seem closer than it was. This was also not a game that had stats jumping out on the statsheet, but it was just a defensive game. Texas A&M will get a break this week as they take on Lamar. They drop to number 16 in the rankings. Clemson will play Syracuse this week, at Syracuse, and I get a strong feeling we might just talk about that game next week. Clemson has always struggled against the Orange, as they were defeated 2 years ago, and realistically should have beat them last year. It should be a great game, and it should be interesting to watch.
In what I thought would be game of the week, LSU traveled to take on Texas. The number 6 team versus the number 9 team in the country. The first quarter of the game, was very low scoring, yet so very exciting. Only 3 points were scored, a field goal kicked by the LSU Tigers. However, neither team could crack the scoreboard the rest of the quarter. LSU started a drive with their back to their own endzone. LSU quarterback, Joe Burrow, threw an interception, picked off by linebacker, Joseph Ossai, who couldn't quite get it into the endzone, but got the ball to the 4 yard line. However, they couldn't punch a touchdown, and they went into the second quarter down 3. They would get the ball back, and score a 55 yard touchdown, the longest play that Texas has had from scrimmage since 2017. They went up 7-3, but LSU got the ball back, and didn't take long to take back their 3 point lead, and Joe Burrow threw his first of 4 passing touchdowns, to wide receiver Justin Jefferson. Just the way that Burrow passes the ball, and stays calm, and just threads the needle, it really is great to watch. I know that Tua Tagovailoa, and Trevor Lawrence get talked about and talked about by every single radio show, sports show, everything. I really do think that Joe Burrow had the best performance all week this week, and is a for sure Heisman candidate. Before the half was over with, LSU kicked another field goal, and Burrow threw another late touchdown to Justin Jefferson, which again, a great pass. Skip ahead to the fourth quarter, LSU up 23-21, scores a touchdown, putting them up by 9 at the beginning of the final quarter of the game. However, Texas was not going to go down quietly, as they scored a quick touchdown, and cut it back down to a 2 point game. Fast forward 3 minutes later, and LSU extended their lead yet again, and didn't look back, as they won 45-38. Let's not take away any credit from Texas even though they lost. We knew it was going to be a battle of the quarterbacks, and it sure was. Texas's quarterback, Sam Ehlinger, passed for 401 yards, and 4 touchdowns. Joe Burrow, threw for 471 yards, 4 touchdowns, and an interception early in the game. LSU is now in the top 4, being ranked number 4 this week in the AP Poll, and Texas dropped down to number 12.
Now, for our very unlikely game of the week, Army vs. number 7 ranked Michigan. It is upset season…..well almost. Army, for as long as I know, has been known for they up tempo run game, not passing, and competitive defense. They for sure put all three of these things together this week, and shut down the Wolverines on the offensive side of the ball. Army quarterback, Kelvin Hopkins Jr., only passed the ball 4 times in this whole entire game. Which makes you think, no way these guys can compete with the dominant Michigan football team. However, they did just that. You see, the way Army runs their offense, is not exciting at all. It wins football games, and puts them in positions to win football games, but it isn't necessarily exciting. They usually run for about 3-4 yards per play, and eat time off the clock, while using every single down. They were up 14-7 at the half, and had the ball back in the third, at the 1 yard line, with a chance to go up two touchdowns, and steal every ounce of momentum in the Big House. However, a false start pushing them back to the 6 yard line, on third down, meant they would probably have to pass, considering their kicker had never attempted a field goal heading into this game. So pass they did, and the Michigan defense was all over it, and put pressure on Hopkins Jr., which led to him throwing an interception, and Michigan set up shop around the 4 yard line. They marched down the field, and scored, making it 14-14. It stayed at 14 for the longest time, before Army got into field goal range, causing kicker Cole Talley to attempt this first ever field goal of his college career, which he just missed, causing the game to go into overtime, and giving Michigan fans hope. Army got the ball first in overtime, and scored a touchdown, putting them up a touchdown, meaning Michigan must score a touchdown, or they lose the game. Michigan quarterback, Shea Patterson, had been neutralized the whole game, but led them down the field, to score a touchdown, and push the game into double overtime. Michigan got the ball first, went down the field, and nailed a field goal, putting the Black Knights down, but certainly not out. They could push the game to a third overtime with a field goal, or win it with a touchdown. Unfortunately they would do neither, as Michigan strip sacked Hopkins Jr., and won the football game. Now, this is going to lead to something really interesting.
Michigan came into this week ranked number 7. Meaning, that with a poor performance, they can't just drop down one, because the number 8 ranked team, Notre Dame, was on a bye week. Usually, a team on a bye week isn't going to move up or down, which means Michigan would take a heavy drop this week. To be perfectly honest, it would have made the whole scene a lot more interesting should Texas have knocked off LSU, because all of the ranking would have almost had to have Notre Dame staying at 8. However, Notre Dame moved up to 7, causing Michigan to drop to 10, Florida moving up one spot to 9, and Auburn filling the number 8 void. Some honorable mention games this week would be California upsetting Washington, causing our biggest drop of the week, as they fall nine spots down to 23. USC not only upset Stanford, but absolutely dominated the Cardinal, as the USC Trojans move into the number 24 spot. Virginia also cracks the rankings this week, at number 25. Ohio State, and Oklahoma fall one spot, to make room for LSU at 4. My prediction for next week's game of the week, would have to be Clemson @ Syracuse, just because it is always a competitive game, and it's at Syracuse. Bold prediction: Kentucky will upset number 9 Florida this week, at home. That's it for this week, I hope to see you all next week, and hope to have some more highly contested games.
Leave a Comment
About the Writer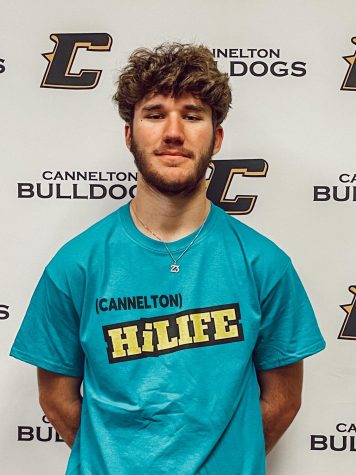 Jhett Garrett, Editor