College Football: Week 4 Review
This article is the 4th edition of our College Football review series.
Week 4 absolutely did NOT disappoint. It is really the start of the huge changes in the rankings, and we are starting to see which teams are probably going to make it to the playoff. I would first like to apologize, as there is no week 3 review. It was a busy week for articles, and it was something that I unfortunately did not get around too. Anyway, time to get into our week 4 review.
Our first game is a ranked vs. ranked matchup, between number 8 Auburn traveled to face number 16 Texas A&M. The game kicked off with a 57 yard rushing touchdown by Anthony Schwartz to put the Auburn Tigers up 7-0. At the end of the first, A&M was down 14-0, with their backs up against the wall. They held the Tigers to zero in the second, while they kicked a field goal and would get the ball first coming out of the half. However, they went scoreless in the third and the Tigers extended their lead 21-3. It was the fourth quarter when the Aggies stepped up their game and gave the number 7 team in the country a run for their money. However, they fell short, losing 28-20. The Aggies defense just didn't put up a fight, and the special teams unit didn't fare much better. I will say that they really controlled the pass game, only giving up 100 passing yards. Texas A&M quarterback Kellen Mond really impressed most people. In the fourth quarter, he threw for the only two touchdowns that the Aggies would score, while finishing with 335 passing yards. They went to Mond a lot on Saturday, as he threw 49 passes and completed 31 of them. It was really the run game that prevented them from competing. The A&M run game isn't necessarily bad, as much as the Auburn defense is just good. Their defense really did propel them to this victory, and up until the fourth quarter it looked like it was going to be a blowout. Auburn (4-0) went up one spot to number 7, and Texas A&M (2-2) falls to number 23, after their second loss of the year. You almost feel for Texas A&M though, because they have the hardest schedule in college football – and that isn't up for debate.
For the first time since 2016, the UCF Knights have lost a regular season football game. It came in a great game against the Pittsburgh Panthers, who were unranked. Pittsburgh is always a tough place to play, even Notre Dame was on the ropes last year when they visited. However, this year the Panthers closed the game out. The Panthers really started off hot, going up 21-10 at the half. The Knights were not going to go down quietly, and they dropped 21 points in the third to take 31-28 lead. A field goal late in the fourth extended the Knight lead to six points, but Pittsburgh was driving. With about a minute left on the clock, they scored a touchdown on the Philly Special and tied up the game, with an extra point winning the game for them, 35-34. UCF quarterback Dillon Gabriel, threw for 338 yards and two touchdowns. He also had two interceptions, which came back to be pretty big. Pittsburgh had three different quarterbacks throw one passing touchdown, which is not something you see very often. They also controlled the run game by spreading it out, and had six guys rush at least one time. I've noticed that when you can spread the ball out a little bit, and include different personnel, it leads to points on the board. This is the first time that UCF has lost a regular season game, since November 26th, 2016, against USF. That year, UCF finished 6-7, losing a bowl game to Arkansas State. UCF (3-1) falls to number 22 in this week's AP Poll, and Pittsburgh (2-2) remains unranked.
One of the biggest comebacks in college football history took place in week 4, and it involved number 20 Washington State Cougars, and the unranked 0-3 UCLA Bruins. The Bruins started out great and took a 10-7 lead at the end of the first. However, that hot Washington State offense had four touchdowns in the second, taking a 35-17 lead. The Bruins would pick up a touchdown, outscoring the Cougars 21-14 in the third. However, things were not looking good for UCLA. Little did fans know that the Bruins would score 29 points in the fourth quarter, and win the football game 67-63. This was probably the best offensive showing since Patrick Mahomes and Texas Tech lost to Baker Mayfield and Oklahoma back in 2016, 66-59. Listen to these stats because they are absolutely bonkers. It was all passing too, which makes it a lot more fun. UCLA quarterbacks threw for 507 yards and 5 touchdowns, with an interception. Wide receiver Demetric Felton caught seven passes for 150 yards and two touchdowns, while another wide out, Chase Cota caught 4 passes, for 147 yards, and a touchdown. If you thought those were crazy, then listen to this – Washington State quarterback Anthony Gordon threw for 570 yards, and nine touchdowns! Yeah, nine. That is something that you just don't see often. Six different wide receivers scored a touchdown, including Easop Winston Jr., who had four receiving touchdowns. This type of offensive showing is flat out rare, and I really don't know when we will see a performance like this again. Even though they couldn't come out with the W, a lot of respect should be given to Anthony Gordon. Washington State didn't seal the win, but there is a lot of potential here. If they can clean up the defense and win out the rest of their season, I could for sure see this team finishing top 15 at least. The Cougars (3-1) fall out of the rankings this week, and the Bruins (1-3) remain unranked.
This week's game of the week between the number 3 ranked Georgia Bulldogs and the number 7 ranked Notre Dame Fighting Irish did not disappoint. I have made it clear in the past that I am, in fact, a die hard Notre Dame fan. Coming into this game, everyone had their eyes on the Fighting Irish, especially after a disappointing loss in last year's college football playoff. Not many non-Notre Dame fans think that they can hang with top tier teams like Georgia, so this was a huge opportunity for them. They were on the road, in a night game, with the most people that ever attended a football game in Athens. That's another thing – Notre Dame is honestly the most valuable sports team in almost all sports. Whenever Notre Dame played Michigan in Ann Arbor, the biggest football stadium in the United States, they sold it out and broke records… twice. When they went to Clemson in 2015, they sold it out. Notre Dame brings in money, fans, and a huge revenue. But now, let's get to the actual game. The first quarter was scoreless, yet entertaining. It was interesting not only as a Notre Dame fan, but just a football fan in general, to see how Notre Dame was going to react to this huge crowd, and they really did a great job. They made adjustments early and didn't let the game get out of hand. In the second, Georgia dropped a punt, and it was recovered by Chase Claypool at about the five yard line. Notre Dame would go onto to score a touchdown, thrown to tight end Cole Kmet, who was returning from a collarbone injury. Georgia answered right back, tying the game up. Notre Dame would kick a field goal before the half ended, and took a 10-7 lead heading into the half. This is something that not a lot of people saw coming. People were saying Notre Dame didn't belong on the same field as Georgia, and here they are: up by a field goal at the half, and on the road. In the third quarter, Notre Dame was scoreless, while Georgia kicked two field goals, putting them up by three. The Fighting Irish offense just slowed down after the half. In the first two quarters, they were running an up tempo, fast paced offense. However, they came out and did not play well at all, which was a huge question mark heading into this game: Can the offense hold their ground? Heading into the game, I said that if Notre Dame could put up four touchdowns, they would win the football game. In the fourth quarter, Notre Dame fell back 13 points, and with time winding down, they scored a touchdown. They then proceed to force a three and out, and have about 1:40 to score a touchdown. They came close, but ultimately fell short on what looked like a pass interference at the end of the game. The officiating was absolutely terrible, and not just on the Fighting Irish. There were some pass interference no-calls that should have been called on both the Irish and the Bulldogs. Yet, they were calling things like illegal wedges, which I've never even heard of, on the Irish. It was really just a terrible case, because it was a great game in the end, and Notre Dame changed a lot mind's on Saturday night. Notre Dame's quarterback Ian Book threw for 275 yards, and 2 touchdowns. He threw a couple interceptions, that weren't really bad passes, as much as really great defense. The run game was never there, as they finished with a total of 46 rushing yards. Georgia's quarterback Jake Fromm passed for 187 yards and a touchdown in the game. I learned this weekend that Georgia running back, D'Andre Swift is a dawg! Honestly, I always did think he was a great running back, but the way he sheds tackles with ease is really something else. He finished with 98 rushing yards and a touchdown. Another thing – Georgia is such a respectable team and fanbase. Last week, they did a "pink out" game for their opponent's head coach, whose wife passed away due to breast cancer. This week, they gave Notre Dame a standing ovation as they walked off the field after falling 23-17. For a team that was projected to get beat by 16 points, Notre Dame isn't too bad at all, and they definitely proved they can hang. Georgia (4-0) sat at number 3 in the rankings this week, while Notre Dame (2-1) only fell to number 10, which is fair considering how well they played.
Some honorable mentions would be Ohio State's quarterback having six touchdowns against Miami (OH)… in one quarter. That's right. He threw four passing touchdowns and rushed for two, in a 42 point second quarter by the Buckeyes. Wisconsin absolutely dominated the Michigan Wolverines in ranked Big Ten play. Wisconsin moved up to number 8, and Michigan dropped to number 20. California comes in with the biggest jump of the week, moving up eight spots to number 15. There is a tie for the biggest drop of the week, between Utah, and Michigan, who both dropped nine spots. Utah is now ranked number 19, and once again, Michigan number 20. My top performer of this week, without a doubt in my mind, would have to be Washington State quarterback Anthony Gordon, who passed for 9 touchdowns and 570 yards. I came really close with my last bold prediction, when I said the Kentucky would upset Florida, and Florida barely squeaked by.
This time, my bold prediction is going to be Maryland's offense bounce back after a rough couple games, and they will upset number 12 Penn State, and get back into the top 25. That's it for this week, and I hope that all of you will join me again next week.
Leave a Comment
About the Writer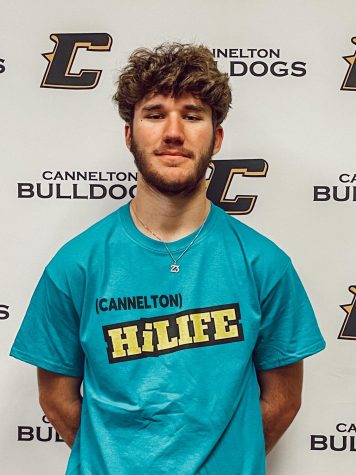 Jhett Garrett, Editor