College Football: Week 6 Review
This article is the 6th edition of our College Football review series.
This past week had a couple of upsets, and a lot of great games with great performances. However, before we get into that, just a little update. We are going to do a week 6 recap, but with Fall Break happening next week, there will not be one for week 7. Which is a little unfortunate, because I really do enjoy doing these. But I will be out of town, and it won't be possible to write one. Anyway, into the recap!
There were a few big upsets this week. The first one I want to get into is Cincinnati upsetting number 18 UCF Knights. The Knights have now dropped two games, and to be honest, it might be time to go to the backup. Dillon Gabriel, threw a total of 297 yards, but gave the ball up three times. Which, especially in a three point loss, is unacceptable, and all fingers have to be pointed at Gabriel. Brandon Wimbush, a transfer from Notre Dame, is the next man up. However, from what I've been watching, they are looking to move him to receiver. That isn't a terrible idea, but he is a very talented quarterback and you have to try him out at that position. Especially now, considering they have fallen out of the top 25. A change has to be made at the quarterback position now, before things get out of hand. The Knights' schedule for the rest of the season isn't very hard, but winning out and finishing 10-2 will almost guarantee a conference championship game. They can still finish top 25 and get a good bowl game. Now let's look at the Cincinnati side. I personally am a big Bearcat fan, and enjoy cheering for them. Whenever they went to Ohio State, I thought they would put up a fight and at least keep it close. While they didn't do that, they are still a good football team. Now, they have graced the top 25 and are looking to continue on. Desmond Ridder, the Bearcat quarterback, threw for 149 yards and two touchdowns, and rushed for 41 yards. Not an amazing performance, but it got the job done for them. It was the defense that prevailed, totaling three interceptions, and three sacks. Like I said, they are now ranked, moving into the 25 spot, which makes sense because they down the number 18 team. Cincinnati (4-1) is going to travel to Houston next week, as the UCF Knights (4-2) head back home to take on East Carolina.
Another "upset" over the weekend took place as number 14 Iowa lost to number 19 Michigan 10-3. Now the reason I put upset in quotations is simply because, to me, this isn't an upset. A very inexperienced Iowa team played at Michigan, against one of the top defenses in the nation. Both offenses struggled, as Iowa quarterback Nathan Stanley threw three interceptions, and Michigan quarterback, Shea Patterson was held to 147 yards and threw one interception. Michigan is a very hostile environment, and it's the reason that Iowa could only manage a single field goal throughout the whole game. The Michigan offense has struggled all season long, however, the defense has mostly done their job. Not including the Wisconsin game, Michigan is one of the best defensive teams in the nation, if not the best. That's really what Michigan has always been built on. There was absolutely zero run game for both the Hawkeyes and the Wolverines. Iowa finished with -3 rushing yards, simply because Stanley finished with -65 rushing yards. Iowa (4-1) falls to number 17, and heads back home to take on the number 10 Penn State Nittany Lions. Michigan (4-1) move up to number 16, and travel to Illinois to take on the Fighting Illini.
My bold prediction has been wayyyyyy off for two consecutive weeks. I predicted Auburn to stay undefeated and win by at least four touchdowns. Unfortunately for me, they didn't even win the football game. From what I've seen, Bo Nix is not the answer for the Auburn Tigers. Obviously, the Florida defense is good, but you have to show out better if you want to play football in January. This was Auburn's first real challenge of the season, and Nix's bad performance caused them to lose. He only threw for 145 yards and threw three interceptions. The defense, which usually shuts teams down, couldn't do anything against the Florida offense. They only finished with three sacks in the entire game, and they gave up 24 points. However, on the other side of the ball, Florida was all around fantastic. Quarterback Kyle Trask, who has had to back up the injured Felipe Franks, has been dealing. He threw for 255 yards and two touchdowns, and didn't give up the ball once. Runningback Lamical Perine rushed for 130 yards and a touchdown. The defense also took three interceptions in the game, which is very good. I really did think that Auburn was going to win this football game, solely because I didn't think that Kyle Trask would be prepared enough because he has barely played this season and he was going up against what was thought to be a top defense in the nation. Auburn (5-1) will travel to Arkansas after dropping down to number 12. Florida (6-0) will have yet another challenge, as they travel to take on number 5 LSU, after moving up to number 7.
There were a lot of interesting performances that are definitely worth mentioning. Notre Dame quarterback Ian Book broke the record for most touchdowns in a half, with five. He passed for all five of them. Book finished with 261 yards and five touchdowns, as Notre Dame beat Bowling Green 52-0. LSU, who will play Florida at home, impressed yet again this week. They beat Utah State easily, 42-6. Quarterback Joe Burrow finished with 344 yards and five touchdowns. Penn State dominated Purdue in their conference matchup. Oklahoma beat Kansas 45-20, behind Jalen Hurts' four total touchdowns, as he continues his Heisman Trophy run. However, if you want to talk about Heisman Trophy runs, look no further than Wisconsin running back, Jonathan Taylor. Taylor has been impressive all season long, and continued to impress this past week, rushing for 186 yards and four touchdowns, as the Badgers win 48-0 over Kent State. Jonathan Taylor is going to be our top performer this week, because this kid is absolutely insane. Wisconsin is going to do great things this season, as long as Taylor continues to put up these kinds of numbers week in and week out. The biggest drop of the week goes to Auburn, who fell five spots to number 12. The biggest rise of the week, is a big tie between, Florida, Michigan, Wake Forest, Virginia, and SMU, who all moved up three spots. Baylor, Memphis, and Cincinnati all graced the top top 25 this week, after being unranked last week.
Now, I am going to try and attempt a bold prediction again, and hopefully get a lot closer this week. What I really want to say is that LSU is going to dominate Florida, but I want to have a lot more fun with this. So, I am going to go to another big game this week: Oklahoma vs. Texas. My prediction: This is a very very high scoring game, however, the Oklahoma defense is going to struggle, causing Texas to upset the Sooners and come out victorious.
Some big games to look forward to this week – number 7 Florida @ number 5 LSU, number 6 Oklahoma @ number 11 Texas, number 10 Penn State @ number 17 Iowa, a big rivalry game between USC and number 9 Notre Dame, and number 1 Alabama @ number 24 Texas A&M.
That does it for this week. Unfortunately, I will be missing next week, which makes me upset because there are a lot of great games that will take place this week. I hope everyone has a great fall break, and I will see you in two weeks!
Leave a Comment
About the Writer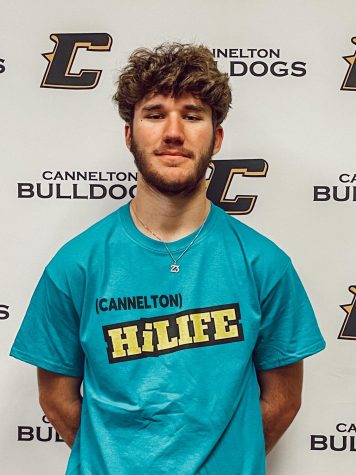 Jhett Garrett, Editor