Exclusive Interview – Seminoles Star Softball Player Kaley Mudge
Kaley Mudge is a record setter. She's already known for being an incredible athlete and an asset to the Florida State Seminole's softball team. But Mudge is also incredibly humble, and she has put in a lot of hard work to earn her awesome reputation.
Mudge is entering her Junior year at Florida State University. She had an outstanding Redshirt Freshman season, winning awards and setting impressive records. She recently received the NCAA Division I Softball Championship All Tournament Team plaque. She set the record and still currently holds the record for most hits in a single Women's College World Series with fourteen hits. Mudge is a very admirable athlete, teammate, and role model.
Mudge played softball for most of her youth years, anticipating the moment when she would later continue her career in college. Mudge explained, "I started playing softball when I was five years old." Training for the next level of softball began as early as she started the recruiting process in her late middle school years. Her hard work and dedication quickly paid off, as she verbally committed to Florida State University her freshman year.
College softball is a lot of hard work, sacrifice, and dedication. However, softball is a fun sport in which you get to be a part of a second family and create such an incredibly strong sisterhood. Mudge reflected that sentiment, saying, "I truly love how much of a family Florida State Softball is to me. I feel like I have so many sisters, and it makes softball so much more enjoyable when I get to play with the people I love!" Softball is so much more than just a sport to Mudge and every other softball player in the world.
Aside from all of the training and focus, College players get the pleasure of choosing a song to represent them before going up to bat. Mudge said, "My walk-up song is 'Good Thing' by Kehlani." Walk-up songs set the atmosphere in a stadium during softball games and can help an athlete focus and prepare.
Wearing the number 6 on her back, Mudge is about to begin her third year with the Seminoles. Even though she already has had an incredibly accomplished career, she still has many goals. She shared, "My main career goal is to win a national championship." Mudge and her team have worked so hard that a national championship could be right on the horizon.
Mudge is one of the most admirable athletes not just in college, but worldwide. She works incredibly hard and keeps a humble mindset. Many Seminole fans and softball fans are stoked to see what Mudge accomplishes this season.
Leave a Comment
About the Writer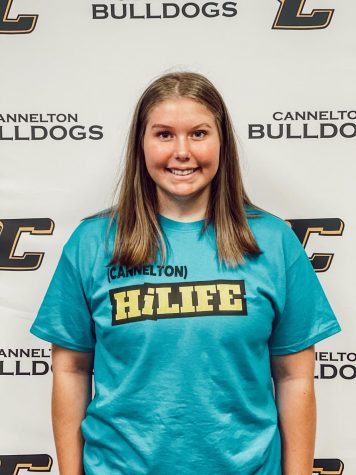 Bria Garrett, Writer
Hi, I'm Bria Garrett. This is my fourth year writing for the Cannelton HiLife. I participate in volleyball,...