Senior Spotlight: Megan Powers
Name: Megan Powers
Birthday: July 19th
Favorite Food: Fried Chicken and Mashed Potatoes
Favorite Drink: Dr. Pepper
Dream Car: Chevy Cruze
Dream Vacation: Florence, Italy
Favorite Clothing: Shorts and a T-Shirt
Favorite Song: "Bruises" – Lewis Capaldi
Favorite Music Group: Country Genre
Favorite TV Show: Greys Anatomy
Favorite Movie: Without a Paddle
Hobbies: Singing and Drawing
Favorite Sport: Volleyball
Favorite Restaurant: Cheddars
Favorite Actor: Cole Sprouse
Favorite Actress: Melissa McCarthy
Favorite Place to Go: My friend's house
Favorite Color: Blue
Favorite Holiday: Independence Day
Favorite Cartoon Character: Spongebob
Favorite Thing to Do: Soak up the sun when it is warm outside.
Favorite Pet: Cats and Dogs
Favorite Amusement Park: Kings Island
Favorite Subject: Math
Favorite Teacher: Mr. Bryce Garrett
Favorite Elementary Teacher: Mrs Witworth from South Hancock
Favorite Place to Go After School: The park
Favorite Place to Eat Lunch: Taco Bell
Favorite Thing to Watch on Netflix: I have watched everything.
Dream Job: Professional singer
Favorite Quote: "Go to KFC for the chicken, not the bone/"
If you could have 3 wishes, what would they be? Pay everything back to my parents because they deserve the world, pure happiness, and a safe world for my daughter.
Where do you see yourself in 10 years? With a small, loving family, having a BBQ the backyard with a huge pool.
Plans after High School: Enter the workforce and take online college classes.
High School Activities and Clubs: Volleyball and Softball
Accomplishments and Awards: Southern Roads Conference All Conference Team Defensive Specialist of the Year in volleyball, 2019.
Most Memorable Moment: The first day I moved to Cannelton.
What will you miss most about CHS? Having gossip sessions with Bryce during 3rd period.
Advice for underclassmen: Don't let anyone tell you that you can not achieve something in life because you made a mistake. Those mistakes are lessons, use them to your advantage.
A message to your family & friends: Thank you for supporting me and being there for me when I needed it most.
Leave a Comment
About the Contributor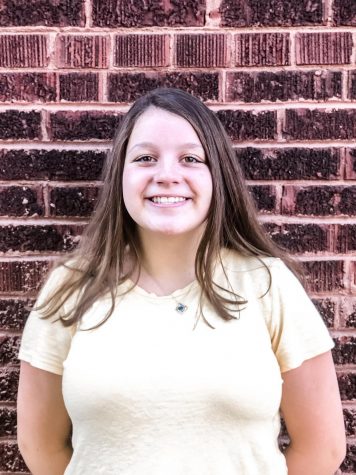 Jenessa Sturgeon, Writer
Hello! My name is Jenessa Sturgeon. I am a junior and a third-year writer for the HiLife. I play varsity...