Dear Seniors; Love, Your Teachers
Letters to the CHS Class of 2020 from our Teachers and Staff
To The CHS Class of 2020:
I feel so sad that your second half of your Senior year had to end the way it did. The memories you make in high school will be with you forever.
I am always sad when seniors graduate because I will miss them. There are always a select few who I get to know better than the others & I will forever hold you in my heart.
I wish you the best in life & hope you will come back to visit:)
HOPEFULLY, you will get the graduation ceremony you all deserve!
– Mrs. Lisa Harris
To all the seniors of 2020,
This will be a year in history to remember and you are part of this.. but remember this does not change who you are and what you want to accomplish… in fact this should show you what is important in your life!
Best wishes! Now go and make a positive mark in life and start writing a new chapter for your life book.
Oh and music is essential..
– Mrs. Adams
Dear Seniors,
I am sorry your senior year ended the way it did. You are missing out on so many memories that every senior looks forward to. I am wishing each and everyone of you the best of luck with whatever your future plans are. I have enjoyed watching you go from little second graders in my class to the outstanding individuals you are. Your future is what you make of it, so always work hard to achieve your goals! The pandemic may have taken away some of the things you have looked forward to for years but do not let it take away your drive to reach the goals you have set for yourself! Best of luck class of 2020! I am proud of all of you!
Love, Mrs. Melton
Seniors of 2020,
I want to wish you all well. It was a pleasure to have many of you in class. I know the end of your senior year was not as you had wanted it, but a new chapter in your life is opening and you all are going to do great things!
"The future belongs to those who believe in the beauty of their dreams." -Eleanor Roosevelt
Wish you well, Mrs. James
Congratulations Class of 2020!!
I want to take a moment and be a little emotional. I can't believe you're graduating, that you're 18 years old, you are adults, and not the tweens I first met! When it comes to classes, I've known your class the longest. We've been through many, many lessons both educational and life together. I have experienced great amounts of sadness and happiness with you during the loss of my mother and mother-in-law, and the birth of my daughter. I have witnessed new beginnings and endings for you as well. Through it all we have held each other up.
I have always felt a familia bond with this class. In a very short time, a very long time ago during eighth grade year, you became my kids. I have loved you as my daughters and sons, and for some I became the crazy, blunt aunt that never holds anything back. I have always been honest with each of you and vow to do the same with each student after you.
I know the end of your senior year was not what you expected or wanted. However, I have faith that all the trials and tribulations that God is placing at your feet at the moment mean something. And I believe it is because you will become one of the greatest generations we have ever seen!
2020 was supposed to be the year of perfection. Well, I think it still is. It's the year of YOU! Go out there and kick the world's butt like I know you can!
I will always have your back, and you will always have my support and love!!
Xoxo, Mrs. Hinton
Dear Seniors,
As a former teacher to most of you and a mom of one of the graduates, I want to say how proud I am of all of you. You had to end the year on a hard note but persevered. Let this help guide you in your future. Be strong, confident, and wise in your choices and decisions. Dr. Seuss said it best: "You have brains in your head and feet in your shoes. You can steer yourself any direction you choose." Go set the world on fire, but don't forget where you came from.
Good Luck and love to all of you, Mrs. Garrett
To our Class of 2020:
To be really technical, you all were my first class. You were the first class that I was ever entrusted to teach all on my own. I was so nervous to be your 6th grade substitute teacher for a whole week. At the time, middle schoolers scared me. You all changed that. I enjoyed your class so much that I found my niche in middle school; I found exactly where I belong in teaching.
The CHS Class of 2020 really is a special class. You're one of those classes that teachers love to have. You are fun and (overall) well behaved, respectful and kind. You're all such different individuals, but your class works together in a really special way. I wish I could have been your teacher in middle school and really got to bond with you all! Being your class sponsor has let me into your family a little bit, and I'm grateful that you all came to me with that opportunity.
You all didn't have a traditional senior year, and I wish I could fix that. But, what you are experiencing during your senior year is something incredibly unique, maybe even once in a lifetime. I think that the Class of 2020, all around the world, will all share an extra unique bond because no one else has experienced what you all are experiencing now. There have been a lot of negatives with all of this, but there are so many positives, too. Always look for those positives, even when it's difficult! Especially when it's difficult.
Cannelton City Schools is losing a lot when you all graduate. Leaders, scholars, athletes, and artists. You all have contributed so much to our school and our community. But the world is going to benefit so much from you all officially entering adulthood. Remember to always leave the world better than you found it. Use your talents to better yourselves and your lives, but also to brighten the lives of others. Dream big! You are all such awesome people, every single one of you. I can't wait to see what the future holds for you all, because I know it's going to be so great!
Make sure to come back home to your CHS family often, and tell us all about your adventures and successes. Also remember to ask us for help anytime that you need it. We are all always here for you. You ALWAYS have a family here at CHS.
Love, Mrs. Herzog
Leave a Comment
About the Contributors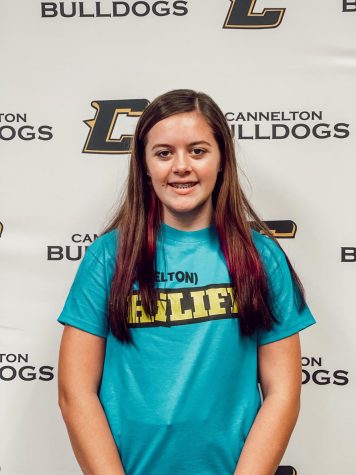 Kylie Anastasiades, Writer
Hi, my name is Kylie! This is my fourth year being a part of the Cannelton HiLife. I am involved in softball,...