Coronavirus Creates New Opportunities to Honor Seniors
During these unfortunate times, many people are greatly impacted in a bad way. Those who are affected the worst, the senior classes of 2020. Though, it's not great news to hear that the rest of your senior year is cancelled, there are many things celebrities are doing to help make the situation lighter.
One thing that has got a lot of attention from seniors was a virtual graduation that was hosted by The Office actor, John Krasinski, featuring Oprah Winfrey. His kind hearted action shed a lot of light on not only the seniors, but everyone who is feeling down about these unfortunate times. Krasinski also hosted a virtual prom for seniors around the world.
They weren't the only people who shed light on the seniors. Impractical Jokers star, Joe Gatto, has made many surprise appearances in Google Zoom classes of high schoolers around the world. In fact, our school was surprised! Other celebrities, from Kim Kardashian to MLB star Todd Frazier, have been popping into zoom classes and meetings as well.
Not only are celebrities helping make quarantine a little easier, but so are citizens around Perry County. Our seniors were recognized around our small town using signs with their names on it, and our senior athletes had banners with their picture on it hung up in town. Many local businesses are honoring our Perry County seniors with creative window displays.
A really cool, new tradition is graduation parades. Our graduates will be in their own vehicle with family, and will take a 3 mile route through town. Families, friends, and community members will be lined up on the sidewalks to cheer them on and congratulate them, social distancing style. This new ceremony is proving to be extremely popular and may stick around even after social distancing is over.
We are so grateful to have such thoughtful people in the world who make these tough times a lot easier to handle. They don't have to be celebrities, either – community members can be our heroes, too. It may not look exactly how they imagined, but our seniors will truly have an unforgettable senior year.
Leave a Comment
About the Contributor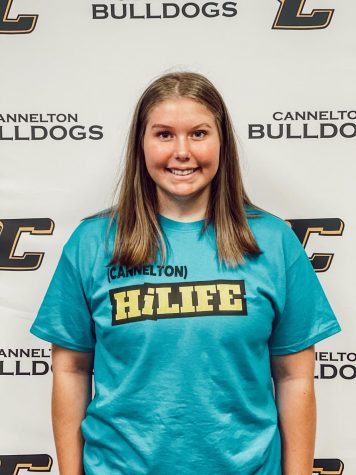 Bria Garrett, Writer
Hi, I'm Bria Garrett. This is my fourth year writing for the Cannelton HiLife. I participate in volleyball,...