How To: Be a VSCO Girl
A step-by-step guide to the latest social media trend.
Sorry, there are no polls available at the moment.
Have you ever heard of TikTok? Unless you live under a rock, you most likely have. In case you do, in fact, live under a rock – here's what you need to know about TikTok. TikTok is an app used to make short videos with music or catchy phrases. One of the things TikTok is currently most known for is the videos making fun of VSCO girls.
VSCO is actually a photo editing app that allows you to edit your pictures, give them filters, and share them on social media. The term "VSCO girls" came from girls who use the app to edit their pictures. Many of them seemed to dress and act in similar ways,
VSCO girls dress and act a certain way; they have their own aesthetic. VSCO girls are known for wearing messy buns with scrunchies, puka shell necklaces, and more (see below). They look super cool, without trying to look super cool. They love to save the turtles with their metal straws and Hydro Flasks. When they're not busy crafting perfect Instagram posts, they make friendship bracelets using their Hydro Flasks to hold the strings while they braid their bracelets.
Another thing that VSCO girls enjoy is painting EVERYTHING – they love to paint their doors, light switches, wall outlets, phone cases, and more. VSCO girls wear Kanken backpacks, which are like 80 dollars a pop, and they normally get them from Urban Outfitters, known simply as "Urban" in the VSCO girl world. You can often find them shopping at "Urban" and Nordstrom in their white Jeep Wranglers. They like to make "VSCO hangouts" – basically clubhouses but with that VSCO, Instagram-worthy vibe.
If this sounds like an aesthetic that you're into, check out our guide below that features all of the things you'll need. In no time, you'll be an Insta-famous VSCO girl.
How To: Be a VSCO Girl
Scrunchies. So you are always ready to create the perfect messy bun.
Crocs. Once considered a fashion mistake, VSCO girls wear them to show their cool and prove that they don't follow trends.
Jibbitz. These small charms will personalize those cool Crocs and add a bit of individuality.
Nike shorts. They need to be super short, so no one can tell that you are wearing them.
Extra big shirts. Your tee must be long enough to cover up your short Nike shorts.
Long Nike socks. These also add to the "effortlessly cool" vibe.
Messy buns. It should look like you just rolled out of bed – again, like you look cool without trying.
Metal straws. To save the turtles, of course.
 Hydro Flasks. Also to save the turtles, in the coolest way.
Carmex. Always carry this to make sure your lips are moisturized and Instagram-ready.
Bonus items: ripped jeans and cropped tees, Birkenstock shoes, friendship bracelets, Vans, Polaroid instant camera, shell necklace, lots of rings, Kanken bag, and stickers to personalize your Hydro Flask.
"And I oop. Sksksksksksk." – VSCO girls everywhere.
Leave a Comment
About the Contributor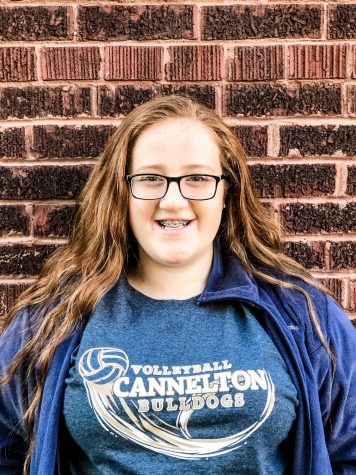 Lori Northern, Writer
I am in the 11th grade at Cannelton High School. This is my first year writing for the HiLife staff....