Top 10 Songs of 2019 (So Far)
"I Don't Care" – Justin Bieber & Ed Sheeran This song was released on May 10. Justin Bieber and Ed Sheeran have previously came together for Biebers 2015 hit, "Love Yourself." This song is about a couple being at a party, and even though they may not fit in, they don't really notice anybody but one person.
"Old Town Road" – Lil Nas X He officially broke the record for holding the longest running number 1 single. This song started as a YouTube video that a streamer made about one of his favorite video games, and became so popular that it crossed over into mainstream radio. It's a mix between a country and hip hop song. The artist's full real name is Montero Lamar Hill, Lil Nas X is just his stage name.
"Bad Guy" – Billie Eilish She released a remix of "Bad Guy" with Justin Bieber, which received mixed reviews from fans. She is currently the only artist born in 2000 to have a number one hit.
"Sucker" – Jonas Brothers It was a real comeback for the Jonas Brothers, releasing their first new album since they split in October of 2013. People are excited to go see them in concert, which has sold out nearly every show.
"Dancing With A Stranger" – Sam Smith The song was written in Los Angeles in September of 2018, and released in January 2019.
You Need To Calm Down – Taylor Swift This song was released on June 14 2019, and it was her second single from her seventh studio album Lover. Producer Joel Little assisted with this song.
 Beautiful People – Ed Sheeran This song reached the number one in UK Single Charts in July 2019. Ed Sheeran is an English singer, songwriter, guitarist, record producer, and actor. This song followed his previous hit single, " I Don't Care."
WOW – Post Malone Frank Dukes, Louis Bell and Post Malone are credited with writing this song. It was actually published in 2018, but just blew up this year.
No Guidance – Chris Brown This song is from his album Indigo. It was released on July 14, 2019, and featured artist Drake.
Goodbyes – Post Malone This song won an MTV Video Music Award for the Best Song of the Summer. It was written by Austin Post, Jeffrey Williams, Brian Lee, Louis Bell, Billy Walsh, Val Blavatnik, and Jessie Foutz.
Leave a Comment
About the Contributor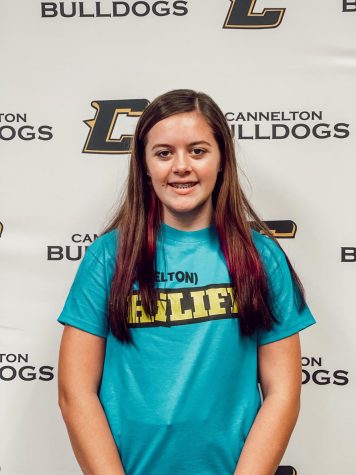 Kylie Anastasiades, Writer
Hi, my name is Kylie! This is my fourth year being a part of the Cannelton HiLife. I am involved in softball,...