College Football: Week 1 Review
This article is the first edition of our College Football review series.
The college football season started this past weekend, and it is a very exciting time. Obviously with football season being back in session, everyone is excited, but that college feeling is just so much fun. There weren't really any huge upsets over the weekend, but there were a couple of good games that I feel should be talked about.
Jalen Hurts transferred from Alabama to Oklahoma after losing the starting job to Tua Tagovailoa, after Tua had a very impressive year. It all started in the National Championship game against Georgia just two years ago, where Jalen Hurts was having a rough game. Georgia led the game at the half 13-0, when head coach Nick Saban decided it was time to make a change. He put in freshman quarterback Tua Tagovailoa, who propelled the Crimson Tide to a 26-23 win in overtime. Hurts, now a senior, performed very well for number four ranked Oklahoma against Houston this past Saturday. He put up 332 yards passing, 20 completions on 23 passes, and 3 touchdowns. Not only does Hurts pass the ball, but he can run the ball too. He rushed for 176 yards, and three more touchdowns. The Sooners won the football game 49-31. The score is a bit of a red flag for the Sooners; giving up 31 points while being ranked fourth does not look good. However, Houston isn't a bad team, and they have a lot of versatility on the offensive side of the ball with quarterback D'Eriq King, who threw two touchdowns and 167 yards passing, while rushing for 103 yards and a touchdown. Mulbah Carr also performed well, rushing for 76 yards and a touchdown. This Houston team impressed a lot of people, and I wouldn't be shocked to see this team ranked by the end of the season. Oklahoma is ranked number four in this weeks AP Poll.
On August 24th, Miami played number eight ranked Florida, and it was a very rocky game. The Gators won 24-21, but it was not pretty at all. Their offense lacked at many times in the game, and quarterback Feleipe Franks didn't help the cause. Although he threw for two touchdowns on 254 yards passing, he threw two huge interceptions late in the game that nearly cost them. Not to mention, a lot of miscues with the Gators offense committing four turnovers. The Gators scored a touchdown with eight minutes left in the game, which gave them a 24-20 lead. However, Miami had plenty of time to score. Florida got the ball back, and tried passing on first down, which led to a Miami interception. Miami had great field position, but Florida's tenth sack of the game on fourth down ended Miami's final drive. I personally was very impressed by Florida's defense, and thought that their defense really showed out. Although there isn't a number next to Miami's name, in-state rivalry games are always tough no matter what. Florida dropped to number 11 in the AP Poll.
In a Monday night affair, between the number nine ranked Notre Dame Fighting Irish and the Lousiville Cardinals, we learned a lot about both of these teams. Coming into this after a tough loss last season against Clemson, the Irish were looking to start their journey back to the College Football Playoff. The offense started out hot, scoring the first drive of the game and making it seem as if they were going to control the football throughout the duration of the game. However, Louisville answered right back with a touchdown of their own, picking apart the Notre Dame defense with their run game. Jawon Pass rushed for 67 yards and two touchdowns, both coming in the first quarter, and freshman running back Javian Hawkins tallied 122 yards rushing. It seemed as if Louisville was going to give the Irish a run for their money, taking the lead 14-7 in the first, but the Notre Dame defense figured it out quickly and shut down the quick Cardinals offense. It was tied at 14 at the end of the first, and with a slow second quarter, it seemed as if it was going to be tied at the half. However, a late touchdown by the Irish put them up by 7, and they never looked back. The Notre Dame defense played absolutely amazing, second to none even, and shut down the Cardinals. They made a lot of adjustments after that rough first quarter, and made it possible to stretch the lead out and win the football game 35-17. However, Louisville really impressed a lot of people. Playing in a conference like the ACC, the Cardinals really could do some interesting things this season and might just play spoiler to a couple of teams. They won't win the National Championship by any means, however after going 2-10 last season, they can only improve this year. Notre Dame moved up one spot to number eight in the AP Poll this week.
One team that really impressed me, maybe more than any team, was the LSU Tigers. It was one of the games that I was able to watch live on Saturday, and it was a hot start for the Tigers at home against the Georgia Southern Eagles. LSU started out the game scoring a fast touchdown, followed by another one….. and another one. They went up 21-0 at the end of the first, and they were up 42-3 at halftime! Anytime I think about LSU, especially in the past, I think about their dominant defense that they seem to have every single year. Georgia Southern was held to three points throughout the whole game, losing 55-3. Tiger quarterback, Joe Burrow impressed big time. He passed for 278 yards and threw for five touchdowns. The offense really just picked the Eagles apart throughout the entire game, offensively and defensively, and never really let up. Running back Clyde Edwards-Helaire also chipped in, with 45 yards rushing, and a touchdown. Joe Burrow really did find a connection there in the red zone with receiver Terrance Marshall Jr. who had three touchdowns in the game. It is something very dangerous to see if you have LSU on the schedule this season, and they will have to be taken seriously. However, they will face a test as they travel to Austin, Texas, to take on the number nine ranked Texas Longhorns on the road. LSU was ranked number six in the AP Poll this week.
That does it for an exciting week one. However, it only gets better from here with some very good games on the schedule for week two, including that LSU vs. Texas game being played at Texas. I hope for maybe a couple of upsets next week. With that LSU vs. Texas game, there will definitely be a big change in the AP Poll next week and it's something I am interested to see. Texas A&M, who has one of the hardest schedules in college football, travels to Death Valley to take on number one ranked Clemson. Texas A&M will eventually play Clemson, Alabama, and Georgia this season, and honestly, if they can possibly win those three games, they will almost be guaranteed a spot in the playoff this year. However, the chance of that happening is pretty slim.
That does it for this week, and I hope to see you all next week for Week 2's recap!
Leave a Comment
About the Writer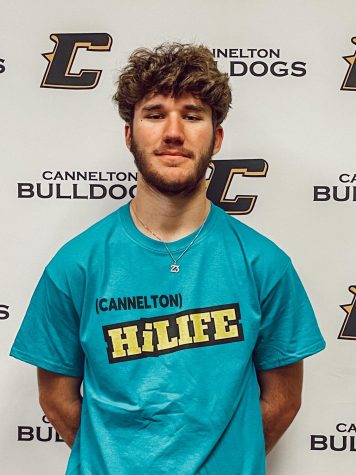 Jhett Garrett, Editor