Exclusive Interview with Hoosier Volleyball Star Kamryn Malloy
Recently, I messaged Indiana University Volleyball star Kamryn Malloy, and I asked to interview her about her career. She was thoughtful enough to take the time from her busy schedule to sit down and reply to my questions. Before we get to her responses, here is a little background on Malloy. She is a Junior starter for the Indiana Collegiate volleyball team. Wearing 22 on her jersey and standing at 6'0, Malloy is an outside hitter. She may play for a team out of Indiana, however, she's from Hilltown, Illinois. But, we are glad to see her showing some pride for the Indiana Hoosiers.
At what age did you start playing volleyball?
"I started playing in 5th grade."
What are some challenges when it comes to being a student athlete at the high school level versus the collegiate level? Any similarities or differences?
"In high school, it was really difficult to manage homework, social life, and athletics. I had little time to do homework with the overwhelming amount of time practices so I used my time in study hall, and whenever I could to do homework. Now in college, I have a little more time because there are fewer classes but the homework is more in depth and harder. When we are traveling, I am always doing homework so that I can focus on games."
At what point did you realize that you wanted to take volleyball to the college level?
"I knew I wanted to play collegiate when I was a freshman in high school. It took hundreds of hours and training but I knew that this was a dream of mine."
What was your reaction when you found out you committed to Indiana?
"I was super excited. I committed to Indiana when I was a sophomore in high school. I always trained very hard so that I would be able to compete at this high of a level."
What's your biggest goal for this season?
"I want to make the NCAA tournament, for the first time since 2010. I think it is a very reasonable goal and we are working everyday at it."
What was your favorite memory from this season so far?
"I loved beating Kentucky at Kentucky this past month. They are ranked #15 in the country. Now they are #8. To be able to compete and win at their place was such a great accomplishment and motivator that we are good enough."
What are some ways that you hype and prepare yourself before a game?
"I like to listen to music and play dorky games on my phone to relax. I watch a lot of film on the other team to know their tendencies so that I am prepared in the game."
What is some advice you could give to underclassmen who wish to play college volleyball?
"I would say to to work hard every single day and keep setting your standards for yourself higher and higher to accomplish your goal.
What are some things you've learned throughout all of your years of volleyball?
"I have learned different skills throughout the years, but I have used many skills that will help me in life such as disciple, time management, and growth mindset."
Malloy has such a huge impact on many athletes' lives, including mine. She's so talented and one of the best athletes I've ever watched play. To keep up with her and what she does, follow her Instagram @kammalloy
Leave a Comment
About the Writer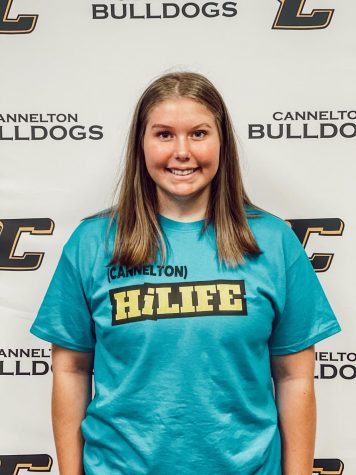 Bria Garrett, Writer
Hi, I'm Bria Garrett. This is my fourth year writing for the Cannelton HiLife. I participate in volleyball,...