Cannelton City Schools Welcomes Two New Board Members
In our most recent city election, five candidates were vying for two open school board seats. These seats were voluntarily vacated by William Garrett and Cory Faulkenberg, two long-time school board members. The community voted, and Roxanne Huff and Bruce Myers were selected to be our two newest school board members.
We reached out to both of our newest school board members for an interview about their newly elected positions. Roxanne Huff, a former cafeteria worker and instructional assistant at CCS, took time out of her day to answer a few interview questions via internet messages about her and her journey to being a school board official.
When asked about the process to apply for an elected school board position, Huff wrote to us and explained, "I registered at the clerk's office to be put on the election ballot to seek a position on the board. Show proof of eligibility. Talk to the citizens of Cannelton and, more importantly, listen to the citizens. I posted signs throughout Cannelton and handed out cards seeking their vote. I talked, I listened, and the citizens of Cannelton voted me to the board."
Curious about her reasons for applying, we asked why she decided to run for the school board. Huff replied, "I decided to run for the Cannelton City School Board so that I could continue to possibly make a difference in a students educational life. I hope to be a part in helping students reach their goals in their educational opportunities."
While on the school board, Huff has one main goal, saying, "I hope to positively effect each and every students' education and help open doors for them once they leave CHS."
Huff's favorite thing about our school system is that "CHS is and will always be close to my heart. It's home to me."
Finally, when asked what she hopes to change about our school system, she replied, "My only hope is for any changes that may occur while I am on the board are positive changes. Changes that improve every students' educational opportunities to help prepare them so they go out into the world beyond high school."
She wrapped up the interview with a powerful statement – "I want to see Cannelton High School be the best it can be."
We are so excited to have Ms. Huff on our CCS School Board! Her passion for our school system is evident in her words. Thank you, Ms. Huff, for taking time our of your day to answer some questions for the HiLife.
We also reached out to our second new school board member, Bruce Myers, but he was unavailable for an interview at that time.
Leave a Comment
About the Contributor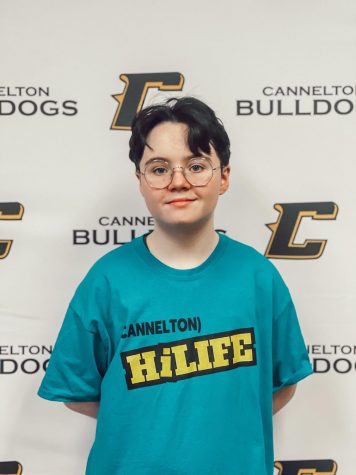 Jay Henson, Writer
Hi, my name is Jayce Henson, formerly known by another name, and commonly known as Jay. This year, I'm...