Teacher Spotlight: Miss Garrett
Teachers are amazing, they manage to teach us so much and keep up a positive attitude all while dealing with our craziness. But some teachers try a little harder than others and I'm here to recognize those people. So, welcome back to the teacher spotlight!
This teacher has tried so incredibly hard and I strongly think she deserves this little reward. Ms. Garrett, the middle school math teacher is receiving the spotlight today. She has managed to turn iReady into a fun challenge, added comfort and a sense of relaxation to her room, and more while dealing with the craziness of us children.
So, I asked her a few questions.
Describe your personality. "I found this question to be difficult for me to answer so I asked the 6th graders for help. They said that I am enthusiastic, sweet, and caring. I feel as though I am also hard-working and dedicated."
What are the three personality traits you believe you have? "I feel I am dedicated, passionate, and outgoing."
Why did you start teaching? "I have been lucky enough to come from a long family line of teachers. I watched my grandmother, grandfather, mother, father, many aunts and cousins, and my older sister pursue careers in education and feel that a career in education was inevitable for me."
Did you always want to be a teacher? "I did not. When I was younger, I told everyone I was not going to become a teacher. I wanted to be "different" than the rest of my family. My plan going into college was to get a degree in business and open a daycare. Once finishing school, I realized that starting a business would be difficult without any money. So I took a job as a social worker with the Department of Child Services until I chose to pursue a Master's degree in education and make the career change."
Do you like working with kids? "I have always loved working with children. I started babysitting when I was around 11 years old. I always knew my career would lead me to work with children in some capacity."
Why did you decide to teach the subject you did? "My business degree helped influence my choice to teach math. Math was always my strongest subject in school; I enjoyed working with numbers. I found it satisfying to start with a complex number and come to a final answer. I know math is not a favorite of many, so my hopes were to teach students how to enjoy the subject."
What is a fond memory you have of teaching? "It's hard to single out one specific memory. I enjoy the moments when a concept a student has been struggling with finally clicks for them. You can almost see a cartoon lightbulb turn on over their heads once they get it. I also enjoy getting to know my students and making a personal connection with them.
How would you rate your time at Cannelton? "On a professional level, I would rate my time at Cannelton a 7 out of 10. I have really grown as a teacher since my first semester last year, but teaching middle school math is a new position for me, so I still have a lot of learning and growing in this position. On a personal level, it's a 10 out of 10. I have been much happier and truly feel at home since taking the job at Cannelton."
Was this the school you wanted to teach at? "Yes, this has always been the school I hoped to teach at. Having graduated from Cannelton, it's awesome to be able to come back home and pour all my passion into the students and community here."
Do you like being a teacher? "I absolutely love it. Making the transition from social work to education has been the best possible decision I could have ever made. I am thankful every day that my path has led me to where I am at Cannelton City Schools."
Overall, Ms. Garrett is a very hardworking passionate teacher and I believe she will become a favorite of a lot of students through the years.
Leave a Comment
About the Contributor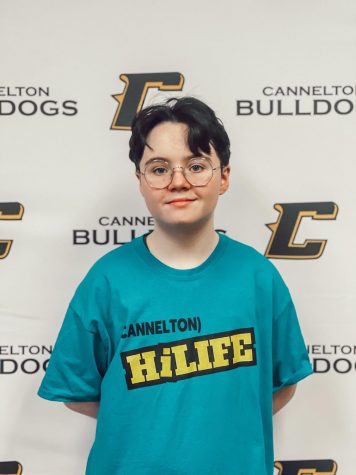 Jay Henson, Writer
Hi, my name is Jayce Henson, formerly known by another name, and commonly known as Jay. This year, I'm...