Teacher Spotlight: Mrs. Herzog
Teachers do a lot for us, and I mean that when I say it. They teach us valuable life lessons, and start us on the trip to success. Since teachers are so important, I thought we should recognize the teachers doing a little extra here and there! So, welcome to the Jr. High Teacher Spotlight!
I would like recognize a special teacher, Mrs. Herzog, putting a little more effort into her class by adding fun competitions turning iReady into a fun challenge for all of the junior high. She also manages to control these crazy hyper kiddos despite trying to carry a baby of her own. I thought this earned her the first Teacher Spotlight.
I asked her a few questions, the first being just a simple describe your personality question. She told me, "My family is the most important thing in the world, they drive my decisions and are my inspiration. I'm pretty old school in most ways. I believe that working hard and being a genuinely good, honest human is one of the most important things that anyone can do. I think that kindness can change the world. I fall short sometimes (especially with these pregnancy hormones!) but I really strive to be a good person. I have always been super shy, especially while I was in school. I'm kind of socially awkward and not great at small talk conversations. I'm happiest when I'm home, in comfy clothes, eating take out and watching movies with my family. Besides reading and writing, sports and shopping are two of my favorite hobbies. I do a little bit of DIY/crafting, but I'm a major perfectionist."
The next question was what are the three personality traits you believe you have, and she answered: "Caring, hard-working, responsible."
I decided soon after to cut the personality questions and start asking about professions.
What subject do you teach? "Middle School English/Language Arts and High Ability."
Why did you choose to teach those subjects? "I have always loved reading and writing. Both have been two of my main hobbies/outlets throughout my life. Reading lets you escape to other worlds, to live someone else's life for a short time. Writing is such a great way to express feelings. Words are so powerful. A particular phrase or quote can inspire others; it can change the world. I hope to introduce my students to the wide world that reading can offer them, and show them that their words are so meaningful and can leave an impact."
How long have you been teaching? "I began teaching in January of 2014. This is my 5th full year teaching, so I have been teaching for 5.5 years total at the end of this school year."
What is a fond memory you have of teaching? "My fondest memories of teaching so far have been seeing my students succeed. I think that's why all teachers choose this career – we want to help shape the future and leave a positive impact."
Do you plan on teaching all your life? "I do plan on teaching until I'm old enough to retire."
Was this the school you wanted to teach at? "This has always been the school that I wanted to teach at. This is my home; my school family. I would never want to teach anywhere else."
Why did you start teaching? "I started teaching because I enjoy working with kids. It's so awesome to see them work so hard and succeed, and getting to be a small part of that every day is so rewarding. "
Do you like being a teacher? "I really enjoy nearly everything about being a teacher. I wish that the state didn't put so much pressure on teachers and students to pass standardized tests. That's probably the only aspect of teaching that I don't enjoy. I don't like my students being judged on a number on a test. Our students are real, incredible humans who are much more than just that score on a paper. I love my coworkers and students, my whole school family, is incredible and I am fortunate to work with them every day!"
Overall, Mrs. Herzog is a very passionate teacher who seems to be very kind and genuine. She definitely deserves this teacher spotlight and I'm glad to have her as my teacher!
Leave a Comment
About the Writer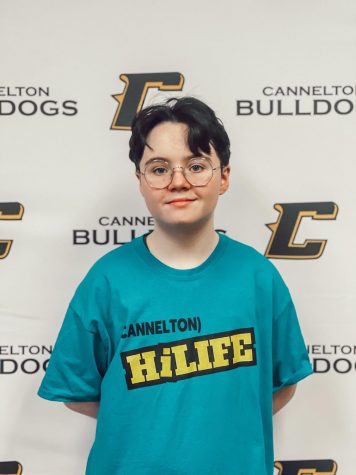 Jay Henson, Writer
Hi, my name is Jayce Henson, formerly known by another name, and commonly known as Jay. This year, I'm...