Varsity Lady Bulldogs Lose to Senators, Commodores
On November 21st, 2019, our varsity Lady Bulldogs took on the West Washington Senators. Although we had a hard fought battle, the Bulldogs unfortunately fell to the Senators 69-19.
The highest scorer of the game was Freshman Kendall Hale. Hale had a total of 11 points- 1 three-pointer, 2 two-pointers, and 4 made free throws.
Following Hale, Maggie Dawson had a total of 4 points- 2 two-pointers. Sara Crafton and Hannah Price both had 2 points- 1 two-pointer.
Standing out in rebounds, Hale had 8 and Maggie Dawson had 6.
There were team totals of 4 assists, 5 steals, and 33 turn-overs.
Coach Garrett said that the team struggled in transition, adding, "We didn't get back on defense well, we had a hard time handling man-to-man pressure."
—————————————————————————————————————————
Later into the week, on November 25th, the Lady Bulldogs faced the Perry Central Commodores. They were unable to bring home the win, losing 63-15.
Out of the 15 total points, Junior Hannah Price led the team in scoring with 7 points. Kendall Hale had 6 points, and Sara Crafton added 2 points.
Price also lead the team in rebounds with a total of 5, Hale following her with 4.
As a team, there were 8 steals and 27 turnovers.
The Lady Bulldogs got off to a slow start and had a hard time recovering. Coach Garrett said, "We had a very slow start, and had a very hard time handling the double teaming which resulted in 30 turnovers."
The team looks to recover at their next game, when they take on Crothersville on December 2nd.
Leave a Comment
About the Contributors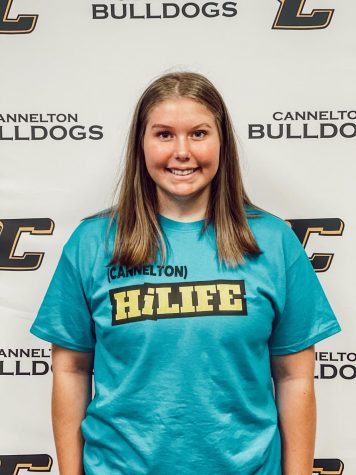 Bria Garrett, Writer
Hi, I'm Bria Garrett. This is my fourth year writing for the Cannelton HiLife. I participate in volleyball,...