Junior High Boys Fall to Cloverport in Season Opener
Monday, November 4th was our junior high boys first home basketball game against the Cloverport Aces. Although the Bulldogs lost both the 7th and 8th grade games, the boys played very well. The 7th grade game's final score was 38-9. The final score of the 8th Grade game was 43-22.
Our highest scorer for the seventh grade game was 6th grader Caleb Hulse, who had a total of 5 points. Following Hulse, 6th grader Rylan Snyder and 7th grader Dylan Gentry both had 2 points, giving the Bulldogs a total of 9 points.
Our highest scorer for the 8th grade game was 8th grader Trevor Hale, who scored a total of 11 points. 8th grader Khalill Little added 10 points, and 8th grader Josh Mills had 1 point.
When asked about the team's strengths for the game, Coach Snyder said, "I felt like we played better defense in Monday's game then we did the week before. I feel like we ran our offense a little bit better than we did. Everything's kind of new with having a new coach, so it takes some time. But I'd say those are the two strongest points from the games. Running our offense better and doing a little bit better defense."
The team does have some areas that they are working to improve. Coach Snyder added, "Rebounding for sure and shooting. We got a lot of shots that we wanted to get in both games but we didn't do a very good job of making them which is why we didn't score very many points in either game. But definitely rebounding, we gave Cloverport too many chances every time they have the ball to score it's just hard to win when you do that."
Coach Snyder discussed his goals for the season, saying, "Well all of our kids work hard. And as long as they have the right attitude and don't get frustrated and keep working hard, we'll get better. I was just telling (Cannelton HiLife writer) Gage, my biggest goal of the season this year is for everyone to have a better understanding of how the game works so they can understand what it is that they do well so we can be successful as a team. I think that's what I want to get more than anything else."
This year we have a very talented group of boys. Our basketball team has a bright season ahead! We're looking forward to a very successful season for our boys.
Stay tuned to our website for future Bulldog game stats.
Leave a Comment
About the Contributors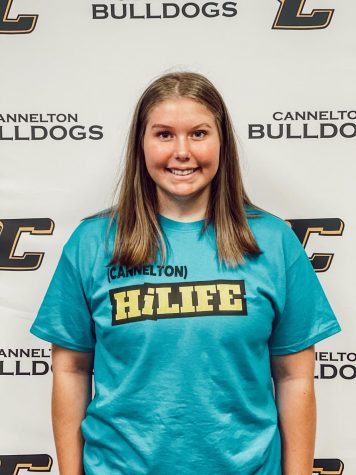 Bria Garrett, Writer
Hi, I'm Bria Garrett. This is my fourth year writing for the Cannelton HiLife. I participate in volleyball,...