Fifteen Bulldog Athletes Receive Conference, County Awards
This year's Southern Roads Conference Players of the Year for Fall/Winter sports have been released, and Cannelton graced the list multiple times.
Each school nominates a designated number of players for the All-Conference team. All of those names are compiled into a ballot. Then, the coach of each team votes for their top players. Coaches can not vote for their own players. The top vote receivers are then named to the All-Conference team. Any players who receive votes, but did not receive enough votes to land a place amongst the top, are given Honorable Mention designations.
The All-Academic team is for all senior varsity athletes who earned at least a 3.0 grade point average during at least one grading period of that sport's season.
For volleyball, Caitlyn Chesterfield, Sara Crafton, and Hannah Gray all made the All-Conference team. However, not only did we dominate the conference on the floor, but we dominated in the classroom as well. Mariah Rainbolt, Taryn Powers, Lori Northern, Charlotte Entwistle, as well as Gray and Crafton were all listed as All-Academic for the conference, which is a huge accomplishment as a student athlete. Brinna Parker received honorable mention for the All-Conference team.
The Girls All-Conference team featured two Cannelton Bulldogs – junior Maggie Dawson and sophomore Kendall Hale, who both contributed to the team in their own way. While Hale was our vote for Player of the Year, we are all very excited to see what she will accomplish in year 3. Gray and Hannah Price were both honorable mentions. Entwistle earned another All-Academic honor for basketball.
Upon hearing the results of the Southern Roads Conference voting, Cannelton varsity girls basketball Coach Brian Garrett said, "I'm really proud of our team. They worked hard all year, and they deserve the honors that they were given."
On the other side of Cannelton basketball, Dylan Young represented the boys on the All-Conference team. Assistant Coach Mike Garrett commented, "Dylan deserves that honor. He absolutely worked hard throughout his whole basketball career. I'm glad to see that it paid off for him."
The boys basketball team really impressed in the classroom. Devyn Komasinski and Jace Bryant highlighted the All-Academic team, and both also earned honorable mention spots. Clayton White joined them on the honorable mention team.
Congratulations to all Bulldogs representing Cannelton on and off the floor!
Leave a Comment
About the Photographer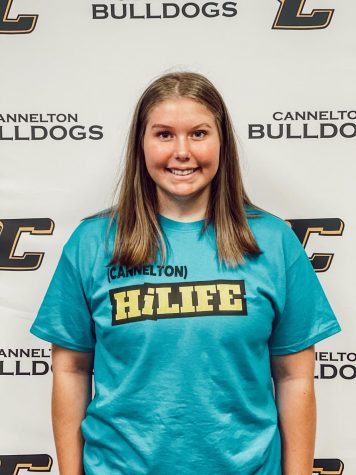 Bria Garrett, Writer
Hi, I'm Bria Garrett. This is my fourth year writing for the Cannelton HiLife. I participate in volleyball,...