Veterans Day Program 2019
Cannelton's annual Veteran's Day program is a small way that our community expresses gratitude for our Veterans.
On Monday, November 11, we hosted our annual Veteran's Day program to show our appreciation and gratitude. We have many traditions and activities that we do each year. Each year, we recognize and thank the Veterans that were able to be there with us. We also have a slideshow with over 100 Veterans that are known to our community, family members of students or staff, graduates and past students of CHS, and others.
Whenever Mr. Snyder began teaching at Cannelton, he had the idea to make a slideshow honoring the Veterans from our community. The first year that he put together the slideshow, there were less than 20 Veterans recognized. Since then, the slideshow has grown tremendously. We hope to continue to see the growth.
The American Legion Post 142 is always a part of this program. They come in every year and make the program be its own. The Legion leads the program by presenting the flags, and then leading us in the playing of the National Anthem and reciting the Pledge of Allegiance. They finish the ceremony every year with a playing of "Taps."
Typically, two students from our high school are asked if they will prepare an essay or a speech for the program. However, this year our teachers did something a little different. There was an essay contest held this year, sponsored by the Veterans of Foreign Wars. The theme for this year's essay contest was "What Makes America Great?" Sixth grader Jaelyn Henson and Junior Jesse Roy both wrote amazing essays and were asked to read them at the program.
Since the start of the programs, elementary staff member Mrs. Adams has prepared our elementary students in each grade to perform a song, or multiple songs. They have always done a wonderful job and the community looks forward to their part of the program every year.
Last year, we had special additions to the program – high school students Megan Powers and Isaac Corley have both performed during the program. This year, they both came back for one last performance at our Veteran's Day Program before they graduate. Last year, Megan sang by herself and Isaac recited the "Ragged Old Flag." This year Isaac played the guitar as Megan sang the song "Travelin' Soldier." Ike followed again this year with his rendition of "Ragged Old Flag."
We thank each and every Veteran for their service, however, there is one Veteran who holds an extra special place in our community's hearts. Every year, we honor former CHS student and Veteran Mark Miller, who gave his life to our country during his service in Operation Desert Storm. Each year, it is a special honor to be able to say thank you to his mother during the program. We have a small memorial for him in our gym year-round.
Again, thank you to all of the Veterans who have fought for our country. Your service and sacrifice does not go unnoticed or unappreciated. We are forever grateful for your service and protection.
View Comments (1)
About the Contributors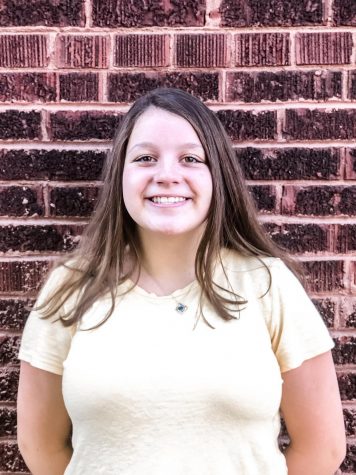 Jenessa Sturgeon, Writer
Hello! My name is Jenessa Sturgeon. I am a junior and a third-year writer for the HiLife. I play varsity...