Senior Spotlight: Jayda Bond
"I feel as useful as the p in raspberry."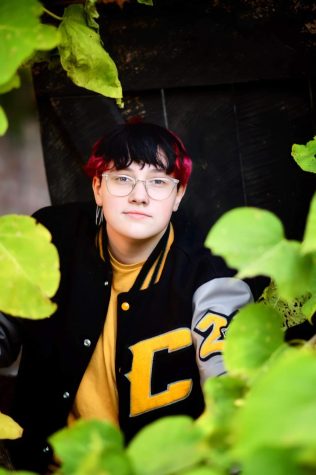 Your Name: Jayda Wynn Bond
Birthday: June 27
Clubs and Activities: Student Council 2 years
Future Plans: attend college
Most Memorable Moment: freshman year, when I found myself
What will you miss most after graduating? the teachers
Hobbies: collecting albums
Favorite Food: ramen noodles
Favorite Restaurant: Red Lobster
Favorite Color: yellow
Dream Car: jeep
Dream Vacation: South Korea
Favorite Clothing: sweatshirts
Favorite Song: the Baby Shark theme song
Favorite Musical Artist/Group: (G)I-DLE
Favorite TV Show: Grey's Anatomy
Favorite Movie: Twister
Favorite Actor: Chris Pratt
Favorite Actress: Ruby Rose
Favorite Fictional Character/Cartoon: Mickey Mouse
Favorite Sport: basketball
Favorite Sports Team: Kentucky Wildcats
Favorite Thing to Do: watch YouTube
Favorite Place to Go: my friend's house
Favorite Amusement Park: Holiday World
Favorite Holiday: Christmas
Favorite Pet: Monster, my kitten
Favorite Subject: Science
Favorite High School Teacher: Mrs. Gogel
Favorite Elementary Teacher: Mrs. Powers
Favorite Place to go After School: home
Favorite Place to Eat Lunch: Fiesta Grande
Favorite Thing to Watch on Netflix: #awake
Favorite Thing to Watch on Hulu: Kitchen Nightmares
Dream Job: producer
Favorite Childhood Memory: when I ran into a pole
Favorite Middle School Memory: when I met my best friend
Favorite High School Memory: when I found out I was gay
Where do you see yourself in 10 years? hopefully pursuing my dream
What will you miss most about CHS? Talking to all my friends
Advice for underclassmen? Don't give up, it will be hard at times but you have to push through it. Just keep thinking about the end goal.
A message for your parents/guardians, family, friends, teachers, anyone important: Thank you to everybody for believing in me, and thank you for pushing me to finish school and go to school.