Senior Spotlight: Alexis Blake
"Futures don't make themselves, you have to create them."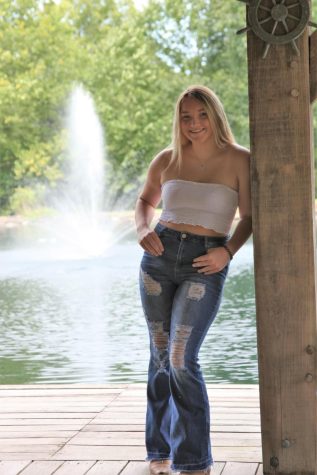 Your Name: Alexis Blake
Birthday: September 11
Future Plans: Not sure at the moment.
Most Memorable Moment: Being with Mrs. Gogel last period during our recycling class.
What will you miss most after graduating? Mrs. Gogel and my friends.
Job: Walmart
Hobbies: Sleeping, shopping, working.
Favorite Food: Chicken fries
Favorite Restaurant: Salsarita's
Favorite Color: Red
Dream Car: Dodge Charger
Dream Vacation: Bahamas
Favorite Clothing: Hoodies
Favorite Song: "'98 Braves" – Morgan Wallen
Favorite Musical Artist/Group: Morgan Wallen
Favorite TV Show: Outer Banks
Favorite Actor: Kevin Hart
Favorite Fictional Character/Cartoon: SpongeBob
Favorite Sport: Volleyball
Favorite Thing to Do: sleep
Favorite Place to Go: the beach
Favorite Amusement Park: Holiday World
Favorite Holiday: Christmas
Favorite Pet: Leo and Remedy
Favorite Subject: English
Favorite High School Teacher: Mrs. Gogel
Favorite Elementary Teacher: Mrs. Powers
Favorite Place to go After School: home
Favorite Place to Eat Lunch: Arby's
Favorite Thing to Watch on Netflix: Fuller House
Favorite Thing to Watch on Hulu: Full House
Dream Job: Criminal Investigator
Favorite Childhood Memory: going mudding
Favorite Elementary Memory: all the field trips
Favorite Middle School Memory: cheerleading and volleyball
Favorite High School Memory: Aggravating Mrs. Gogel
Where do you see yourself in 10 years? Living in Florida or Tennessee
What will you miss most about CHS? My friends
Advice for underclassmen? Stay focused and graduate early, don't push it to the last minute.
A message for your parents/guardians, family, friends, teachers, anyone important: Thank you for all the support, and pushing me to achieve this goal in life!