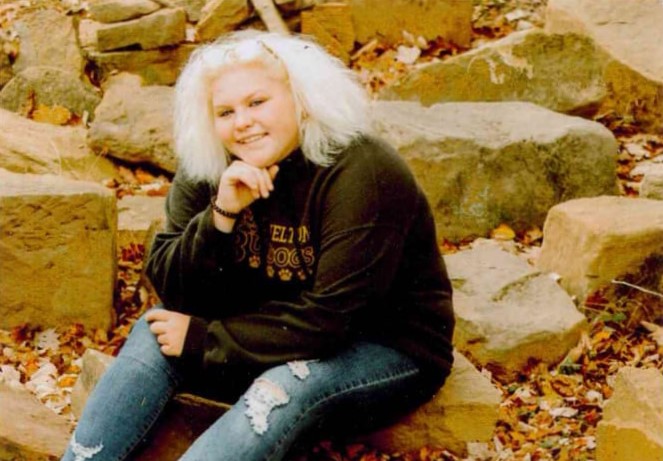 Angie Dykes
Senior Spotlight: Emma Poehlein
Your Name: Emma Jean Poehlein
Birthday: December 3
Clubs and Activities: Archery (2 years) Basketball (1 year) Marching Band (2 years)
Awards and Accomplishments: I qualified 7th out of 300 high school girls and made it to the state archery competition.
Future Plans: Going to college to be a teacher
Most Memorable Moment: switching over to Cannelton High School
What will you miss most after graduating? seeing my favorite teachers 
Hobbies: archery, basketball, music, hiking, painting, thrift shopping
Favorite Food: chicken alfredo
Favorite Restaurant: Mellow Mushroom
Favorite Color: Green
Dream Car: 1992 Chevy Sierra
Dream Vacation: Backpacking across Germany 
Favorite Clothing: Comfy clothes
Favorite Song: "Tom Sawyer" – Rush
Favorite Musical Artist/Group: Rush
Favorite TV Show: That '70s Show
Favorite Movie: Smokey and the Bandit
Favorite Actor: Johnny Depp
Favorite Fiction Character/Cartoon: Ed, Edd and Eddy
Favorite Sport: Football
Favorite Sports Team: Green Bay Packers
Favorite Holiday: Saint Patrick's Day
Favorite Pet: Big chungus (my cat)
Favorite Subject: History
Favorite High School Teacher: Mrs. Dykes
Favorite Elementary Teacher: Mrs. Kress
Favorite Quote: "Because every little thing is gonna be alright"
Favorite Childhood Memory: Working in the workshop with my dad 
Favorite Elementary Memory: the field trips
What will you miss most about CHS? I will miss all of my teachers and classmates, it was definitely 2 years of my life I won't forget .
Advice for underclassmen: Just keep pushing forward, everything will be okay.
A message for your parents/guardians, family, friends, teachers, anyone important: Thank you for being there, thank you for kicking me in the butt and pushing me to graduate. Without you guys I wouldn't be where I am now, thank you so much