Senior Spotlight: Clayton White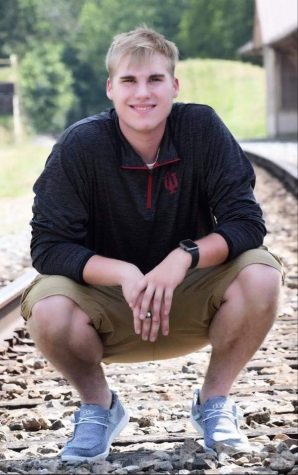 'Name: Clayton White
Birthday: August 28
Significant Other: Myself 
Favorite Food: Steak 
Favorite Drink: Body Armor 
Dream Car: Mustang GT
Dream Vacation: Alaska 
Favorite Clothing: Don't have one 
Favorite Song: "Stayin Out All Night" – Wiz Khalifa
Favorite Music Group: The Beatles
Favorite TV Show: South Park 
Favorite Movie: Magic Mike 
Hobbies: Hunting / Fishing 
Favorite Sport: Basketball 
Favorite Sport Team: Indiana Pacers 
Favorite Restaurant: Dicks Last Resort 
Favorite Actor: Kevin Hart 
Favorite Actress: Don't have one 
Favorite Place to Go: The woods 
Favorite Color: Orange 
Favorite Holiday: Halloween 
Favorite Cartoon Character: Eric Cartman 
Favorite Thing to Do: Hang with friends and play basketball
Favorite Pet: My dog 
Favorite Amusement Park: Kings Island 
Favorite Subject: History 
Favorite Teacher: Mrs. Hinton 
Favorite Elementary Teacher: Mrs. Melton 
Favorite Place to Go After School: The gym 
Favorite Place to Eat Lunch: Wendy's 
Favorite Thing to Watch on Netflix: Big Mouth 
Dream Job: I don't know 
Favorite Quote: "I'm here for a good time, not for a long time." 
If you could have 3 wishes, what would they be?  To have infant wishes 
If you could go back to any age, what would it be and why? I would go back to fifteen because it was freshman year and I would like to try to do something different through my high school career and just to play basketball again.
Where do you see yourself in 10 years?  At a factory making money 
Plans after High School: Go to college and work at waupaca
High School Activities and Clubs: Basketball, baseball, NHS, Student Council 
Accomplishments and Awards: Winning the SRC championship 
Most Memorable Moment: My freshman year – we were wrestling in the locker room and we broke the couch 
What will you miss most about CHS? My friends and the teachers 
Advice for underclassmen: I know you guys always hear this but it actually does go by fast and just work hard and don't give up.
A message to your family, friends, anyone important: Thank you guys for all the love and support!