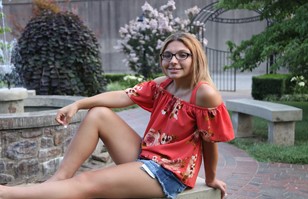 Senior Spotlight: Sara Crafton
Name: Sara Crafton
Birthday: August 7
Favorite Food: Pancakes
Favorite Drink: Sweet tea
Dream Car: big truck
Dream Vacation: Bora Bora
Favorite Clothing: leggings
Favorite Song: "Dancing on My Own" – Calcium Scott
Favorite Artist/Music Group: Carrie Underwood
Favorite TV Show: Supernatural
Favorite Movie: Fear
Hobbies: roller skating, fishing
Favorite Sport: softball
Favorite Sport Team: Duke
Favorite Restaurant: Cheddars
Favorite Actor: Kirk Cameron
Favorite Actress: Reese Witherspoon
Favorite Place to Go: Tobinsport
Favorite Color: purple
Favorite Holiday: Christmas
Favorite Cartoon Character: Scooby Doo
Favorite Thing to Do: listen to music
Favorite Pet: my pitbull
Favorite Amusement Park: Holiday World
Favorite Subject: Spanish
Favorite Teacher: Mr. Parr
Favorite Place to Go After School: Vanessa's house
Favorite Place to Eat Lunch: Subway
Favorite Thing to Watch on Netflix: Supernatural
Dream Job: Nurse
Favorite Quote: Life Goes On
If you could have 3 wishes, what would they be? get my dream job, get a house in the country, and get a big truck
If you could go back to any age, what would it be and why? 7 because I didn't have a care in the world and didn't have any stress. Growing up sucks and only gets worse.
Where do you see yourself in 10 years? Just living life.
Plans after High School: Go to USI to be a nurse, then work in a nursing home as a CNA while in school
High School Activities and Clubs: Volleyball, Cheer, Softball, Dance
Accomplishments and Awards: National Honors Society, Student Council
Most Memorable Moment: Riding on the firetruck through the Tell City parade after winning the SRC basketball tournament for the second year in a row.
What will you miss most about CHS? Friends
Advice for underclassmen: Don't ever doubt yourself and just live in the moment because you will regret it later.
A message to your family, friends, anyone important: Thank you all so much for always supporting and being there for me.